Xiaomi Notebook Pro Max (2022) is the laptop I will be reviewing today, 11th Gen Intel Core i5-11320H processor and 14-inch QHD equipped display with 2.5K resolution support view, and Thunderbolt 4 enabled for speed, interface to connect many types of accessories, and this device It has more valuable components that add value to your money.
Review: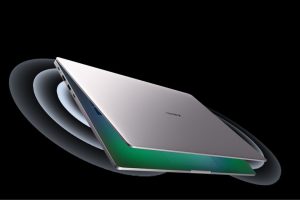 Xiaomi Notebook Pro Max is a great choice for students and business professionals, Firstly comes with 16 GB of RAM and 512GB PCIe NVMe M.2 SSD storage for turning on your device within a few seconds only, and a 1.3mm backlit keyboard along with 11 2X 2W Stereo Speakers makes it more impressive.
Performance:
Now, it's time to talk about Xiaomi Notebook Pro Max's performance and productivity capability, IS used an 11th Gen Intel Core i5-11320H Pro Max variant for a week, and the outcome result will definitely excite you,
Firstly, An 11th Gen Intel Core i5-11320H processor combined with 16GB DDR4 3200 MHz RAM and 512GB PCIe NVMe M.2 SSD, all these powerful components surprised me with daily tasks managing and other activities like video consumption, exploring browsing, and more.
The variant I used includes Windows 11 Home operating system and as we know it is much faster and hits the mark with performance Mi offers Microsoft Office Home and Student 2021 which is quite useful software for students and business needs.
And Intel Iris Xe graphics is good for handling graphical areas, I have good experience with playing high-end gaming and video usage with these Iris Xe graphics and I edited some video clips in Adobe.
The GPU is very decent and a good choice for those who are looking at a midrange graphic running laptop for partial use graphics area, but would not suggest choosing this Intel Iris graphics for full-time programming or graphical works, So you can go with Nivdia Graphics in same laptop model.
Also, Read,
Pros and Cons
After I have used this machine for a week, I noticed several good functions, and at the same time, I found some of its shortcomings, so I would like to share with you the pros and cons of this Xiaomi Notebook Pro Max laptop.
Pros
An 11 hours battery backup with fast charging feature.
Aluminum metal body for long life.
Fingerprint sensor for secure login and data protection.
Windows 11 OS Pre-Installed.
Cons
Slight heating problem.
An Entry-level Webcam
Design & Build:
The 17.3mm premium look-oriented aluminum build-up body of this amazing device gives it appeal in college or office or travel uses, while the 14-inch small screen is more eye-catching for tech lovers.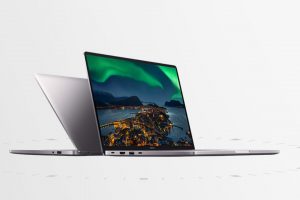 And the fingerprint is placed on the right side of the keyboard which is perfect for the smart handle of secure login and looks great, and the space for the speakers and fans is cleverly placed, very easy to keep cool, and helps it last a long time.
Display:
Xiaomi offers 14 Inch QHD Display pre-installed along with a 2.5K Resolution, IPS technology with included Anti Glare in it for preventing harmful radiation from the display, and a QHD+ resolution of 2.5K support you can easily able to access the consuming of Full HD high-quality videos.
A display of 200 to 600 nits will be good enough, So Mi already pre-installed 300 nits in it, and the 16:10 aspect ratio is enough for laptops or monitors for easy to use, 100% sRGB,215 PPI, the recommended contrast ratios usually vary from 1000:1 to 3000:1. and it comes with a 1000:1 contrast ratio,
And It comes with TUV low Blue light – A Low blue light mode is the display mode that may be declared by manufacturers to satisfy all requirements of blue light ratio, are flicker-free to protect eyes and preserve user vision and allow the user to change body position without compromising visual image quality- TUV.com
Ports & Connectivity
Ports and connections are essential for transferring files and other related accessibility on a laptop, so Xiaomi USB Type-C 2 X USB 3.2 Gen 1 USB for File Transfer with Thunderbolt 4.0 and Power offers 40 Gbps data transmission speed. delivery
And HDMI 1.4 3.5mm audio jack for better display mirroring on monitor and more.
CPU
A CPU is well known as the brain of a laptop or PC, So having a powerful processor is good to perform gaming or mobile workstation at greater efficiency,
In this machine, you get 11th Gen of Intel Tiger Lake Core i5-11320H processor with Speed: 3.1 GHz(base) – 4.4 GHz(max) clock speed and it contains 4 cores & 8 Threads of 8 MB Cache variant processor for handling multiple tasks and turns the power on within few seconds only.
It was a mid-range processor our database proves to be an OK lower CPU, and its multi-thread benchmark scores nearly match those of AMD Ryzen 3 5300U, So quite suitable for daily usage for any purpose.
Operating System & GPU
Within this laptop xiaomi already installed of latest Windows 11 home operating system (Os) for experiencing the latest edition of the new Os with impressive features and a Beautiful, more consistent design, Great window layout options, Strong video gaming features, Performance-improving features, Runs Android apps, and other features you can use in it.
And talking about GPUs that play a vital role and impact on handling graphical requirements and performing better on it, An Intel Iris Xe graphics is existed for managing mid-range graphical requirements, basically, it's a low-end GPU that allows for running entry-level graphics, So isn't suggested for a programmer or video editing as full time.
RAM & Storage
Xiaomi Notebook Pro Max is a powerful laptop that comes with impressive hardware specifications. One of its best features is its storage capacity, which includes a 512GB PCIe NVMe M.2 SSD. This type of storage provides faster data transfer rates and boot times compared to traditional hard disk drives.
It has a high capacity, allowing users to store more files, documents, and multimedia content.
In addition to its impressive storage, the Xiaomi Notebook Pro Max also packs 16GB DDR4 3200 MHz RAM. This high-speed RAM allows for smooth multitasking, quick app launches, and fast data access.
This is especially useful for power users who run multiple applications simultaneously or use memory-intensive software such as video editing or gaming applications.
The combination of PCIe NVMe M.2 SSD and 16GB DDR4 3200 MHz RAM makes the Xiaomi Notebook Pro Max a powerful machine that can handle even the most demanding computing tasks.
Whether you're working on a large project, editing high-resolution photos, or playing the latest games, this laptop gives you the performance you need.
Keyboard, Fingerprint & Trackpad
This Xiaomi Notebook Pro Max comes with a backlit keyboard variant with a quality key build and offers branded secure login and an inbuilt integrated fingerprint scanner for unlocking within 2 seconds.
And additionally, the trackpad was great with extra width and smooth to use, so all these combined things provide an amazing user experience.
Audio & Webcam Quality
Xiaomi Notebook Pro Max has two 2W stereo speakers that support DTS audio processing application. This combination offers immersive sound and customizable audio enhancements for an enhanced listening experience.
And it includes a built-in webcam for capturing photos, videos, and video calls. It enables visual communication and is ideal for online meetings and conferences.
Battery & Charging
It has a lithium-ion battery to provide long-lasting performance of up to 11 hours and has a fast charging feature. So you can always easily carry it anywhere without charging tension.
Verdict: The Xiaomi Notebook Pro Max laptop is a great machine for both working professionals and students, so you need to decide if it is exactly right for you and capable of meeting your needs.
I hope you might like this article regarding the Xiaomi Notebook Pro Max Review, Therefore don't forget to show your support by sharing this article with your friends and family…
And don't forget to follow us on Instagram Bangalore Today
Thank you.