The Honor MagicBook X 14 is the first laptop I will be reviewing on this BT platform. An Honor MagicBook X 14 is a recently launched laptop model by the Honor brand, Honor MagicBook X 14 comes with AMD's Ryzen 5 processor and 512 GB SSD and other exciting features are included in this machine and it is available in India 2022 at an affordable price.
The Honor MagicBook X14 will catch the attention of tech-oriented people, as its 15.9 mm thickness and eye-catching aluminum metal body will maintain the device's superficial appeal for a long time, And provides a very decent view of compatibility, so it is a good choice for business professionals and students.
Review
Honor MagicBook X 14 features a stunning design with very impressive battery backup and good performance with entry-level functions and a secure login option of fingerprint sensor and as usual Ryzen 5 processor and 512 GB SSD all these combined features provide overall good performance for studying, or whether this is office use, try it once.
Design and Build
Honor Magicbook X14 has a premium aluminum metal body 15.9mm thin laptop 1.38kg lightweight stylish eye-catching premium aluminum metal body for slim device lovers, and this slim laptop is easy to carry anywhere and anytime for students and professionals, it is very convenient for travel and work and more.
Moreover, the Honor MagicBook 14 laptop has a good hand grip with the help of aluminum material, you can carry it by hand anywhere, and has a blue chamfer aesthetic design for long-lasting outbuilt quality.
Suggest reading, Best Treadmill for Home
Display
A display is a well-known configuration that reflects the commands of most computers. And the most endearing thing about this Honor MagicBook X 14 is having a quality display.
With a 14-inch stunning full-view display and attractive 4.8mm ultra-slim bezels, and offers a wonderful viewing experience and ensures that users of this machine get a quality experience inside.
Performance & Productivity
Performance is the most important thing in every laptop, in this laptop, Honor offers powerful configurations like AMD's Ryzen 5 processor, popup webcam, SSD storage, and more.
Honor MagicBook X 14 2022 comes with 16GB dual channel LPDDR5 RAM and 512GB Samsung PCIe 4.0 NVMe SSD. Sequential read speeds hit 6,700 MB/s while write performance is just 4,800 MB/s – needless to say, it's a bit of a speed bump.
Hey hold on a minute, I'm asking you if are you clear about why you bought a laptop.
Are you confused by these questions, let me give you some clarity about it, basically there are a lot of laptop brands and their products available in this Indian market buy option, but all of them are not suitable for just gaming or study and office use and whatever it is,
Be it Honor Magicbook or other brands of laptops you should get clear about why you need a laptop before buying a laptop, Here below we've covered
Here below we have explained exactly what purpose the Honor MagicBook X 14 is suitable for and how it can work with various uses.
For Students & Personal Use;
MagicBook X14 is a good choice for students, as it is an entry-level laptop specially made for personal use. Hence, the metallic aluminum body with an attractive look and a highly optimized outlook body provides a comfortable experience while carrying to college.
Apart from that, the battery life of 9 hours and light weight of 1.38 kg makes it very easy to bring to college, and the pop-up camera makes for a great experience while attending online classes and courses.
If you want to spend part of your time with gaming or entertainment, so this is specially made for you, and your heavy gaming console is designed, please go with a GPU built-in best device or else you can add more GPU to this laptop, and boost your gaming experience in it.
OS, RAM & Storage
Having a good operating system in a laptop is essential and that's why the HONOR brand offers quality OS on Honor MagicBook 14 and comes with a pre-installed genuine Microsoft Windows 11 home operating system for an amazing smart user experience and can be new technologies and hidden simple shortcuts are includes.
And "Windows 11 lets you set up virtual desktops like MacOS, toggling between multiple desktops for personal, work, school, or gaming use. You can also change your wallpaper on each virtual desktop". – Cnet.com
This is a great DDR4 technology-based RAM 8 GB with an extra empty slot from the brand for future requirements, and it will definitely support you well in your work or whatever 8 Gb is good enough for any tasks to perform.
And 512GB PCIe SSD to switch on within just 6-7 seconds, i.e. faster and better than HDD, with the help of 512Gb fast storage you can perform muti-tasks better and store and retrieve your data in easy clicks.
CPU & GPU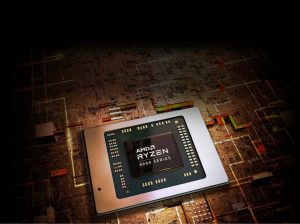 The processor plays a very important role in the performance of the laptop and is known as the brain of the computer.
In this Honor MagicBook X14 device, you get to experience seamless multitasking with AMD's Ryzen R5-5500U processor, which is the best-performing CPU that comes from AMD.
And the cooling fans are quite supportive when handling heavy tasks and multitasking, And it is very good for gaming and video editing, Photoshop, animation, and many other important programs.
Intel UHD Graphics is pre-installed in it and it is amazing in this price range, this Intel UHD GPU gives a good response in graphical tasks or be it gaming.
Keyboard and Trackpad
Every user who is facing a lack of security in a laptop, need not worry much about the same, because it is an amazing feature with a 2-in-1 fingerprint scanner built into its power button, so you can switch your laptop in seconds.
Having a backlit keyboard is very necessary these days and attracts users to spend time on it, so in this Honor device, you get the feel of backlit keys and it enables you to work well even in dim light settings, moreover, the backlighting gives the laptop a contemporary feel that is impressive.
Now it's time to explore the keyboard and trackpad of MagicBook X 14, its uniqueness as well as the technology embedded in it with a backlit option for day and night use.
First of all this laptop is the name of a magic book, it has magical features which as a pop-up camera on the keyboard, hey wondering about this popup webcam, and privacy before anything else. Discreetly hidden within the full-size keyboard is a pop-up webcam that provides much-needed privacy.
Audio & Webcam Quality
The Honor MagicBook X14 comes with a surprisingly hidden webcam that can definitely maintain privacy, discreetly hidden in the full-size backlit keyboard with a pop-up webcam, And additionally, the sound system was also quite decent at that
Battery and Charging
A Battery backup is very important in every laptop because most people choose a laptop over a computer because of battery backup and carry anywhere be it tourism trips or business visits.
And talking about the battery depth of this Honor MagicBook X 14, it has a 56Wh battery and it can run for an average of 9 hours when you spend time on any demanding tasks like multimedia or gaming, animation or coding, and more
Weighing only 200 grams, the new 65W fast charger powers the device up to 48% in just 30 minutes. And support multi-device charging.
Benchmark
After this respectable performance testing process, the MagicBook X14 delivered a very surprising result, performing well in productivity tasks and digital content creation.
The MagicBook 14 AMD had no problems multitasking or running CPU-intensive applications like Adobe Photoshop. It can also handle high-definition images, light editing, and other tasks. However, benchmarks say it's less than ideal for video editing.
Heating Level
Another critical aspect of these types of ultraportable laptops is heat dissipation. Honor has upgraded the fans to deliver 38% more airflow. Its Shark Fin 2.0 silent fans have 49% more s-shaped fan blades, resulting in 38% improved heat dissipation.
Good stuff and Drawbacks
Good stuff in it
The 15.9 mm thin aluminum metal body gives a stunning look.
The display is TÜV Rheinland flicker-free certified for a guaranteed eye strain reduction of up to 80%.
The smart screen-sharing option of the phone will excite the users of this machine.
There is no need to take the pressure of charging all the time, as it has an average battery life of 9 hours.
Bad stuff in it
The Core i5-10210U CPU ranks 1000+ in the benchmark of the CPU performance list.
An Intel-integrated UHD GPU handles entry-level graphics requirements
The hard disk rotation speed on the MagicBook x 14 is only 3200 RPM, which is on the low end.
Faq's
1]. How long does the honor MagicBook x 14 run on a single charge?
According to GSMArena "Honor MagicBook 14 2022 has one of the largest cells we've seen in a 14-inch laptop. Honor claims 15 hours of 1080p native video playback and 10.5 hours of mixed-use", judging by our own usage, it averages 10 hours of backup.
2]. Does honor MagicBook 14 have MS Office?
No, it does not come with MS Office built-in, but Honor provides has 30 days of the free trial version of MS Office.
3]. Is honor MagicBook 14 worth buying?
Honor MagicBook X 14 is a stylish and elegant laptop that comes in the top 10 best laptops under the 40k INR price range in India, An Intel UHD graphics card is wrapped in an all-aluminum chassis with a 75Wh battery – that's the Honor MagicBook 14 2022 in a nutshell.
Performance on the MagicBook 14 is the best in the segment, the battery holds up, and we can't overlook the sub-par screen and lower speakers that rival high-end ultrabooks in this category.
Verdict
Honor MagicBook X 14 was an extremely good choice for entry-level users and students or business professionals, apart from it, it can also capable to show great response with mid-range graphic-oriented games or works.