Best Places to Visit in Bangalore 2023: Bangalore has more than 50 tourist spots including religious, cultural, and royal buildings, gardens, and fantasy parks. It is not only a business place but also an attractive place for sightseeing.
Being one of the fastest growing and most interesting cities in the world, Bangalore offers several tourist attractions including British-era buildings, Tipu Sultan's Summer Palace, Vidhana Soudha, Lalbagh Botanical Garden, and many other cultural structures and natural wonders.
While there are many tourist attractions in Bangalore, in this top 30 list, we have focused on specific attractions and interesting places to visit. Bangalore is one of the major tourist destinations in Karnataka, with several top 10 attractions of the state located within the city.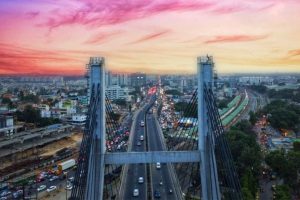 What Bangalore is famous for?
Bangalore, popularly known as Bangalore, is the capital of the South Indian state of Karnataka.
Bangalore is a popular tourist destination for both domestic and international tourists due to its rich cultural heritage, lush green gardens, and pleasant climate.
The city is also known as the "Silicon Valley of India" due to its prominent position as the center of the country's IT and technology industry.
Bangalore is a city with a rich history and diverse attractions that attract all types of tourists. For history buffs, the city's historical landmarks such as Bangalore Palace, Tipu Sultan's Summer Palace, and Methodist Church are must-visits.
The city is home to several beautiful parks and gardens, including Lalbagh Botanical Garden and Cubbon Park, which offer some respite from the hustle and bustle of the city.
For foodies, Bangalore offers a wide variety of cuisines, from authentic South Indian dishes to international cuisines like Chinese, Japanese, and Italian. The city is home to several trendy cafes, bars, and nightclubs, perfect for those looking to unwind after a long day of sightseeing.
In 2023, there are many exciting places to visit in Bangalore. Whether you're interested in history, culture, food, or nightlife, the city has something for everyone. From visiting the iconic Bangalore Palace to exploring the vibrant street markets, there is no dearth of things to see and do in Bangalore.
Best Places to visit in Bangalore 2023
1]. Wonderla Bangalore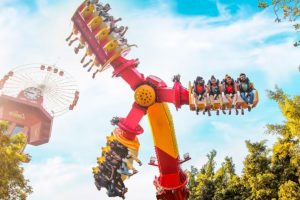 Image: Wonderla.com
Wonderla Water Park Bangalore is one of the amazing and entertaining things to do in Bangalore during summer, more than 50+ water games are available here to enjoy during holidays with your family, couples, friends, or occasions like college annual trips.
Wonderla is located near Bangalore-Mysore highways and their games are like an amusement park with roller coasters, a Ferris wheel, and water rides along with virtual reality experiences and well-disciplined management of Wonderla.
Wonderla Bangalore is great for spending a day happily as it offers an array of thrilling rides and attractions suitable for people of all ages. From high-speed roller coasters to water slides, wave pools, and lazy rivers, Wonderla has something for everyone. The park has excellent food, customer service, and cleanliness, making it a great destination for a fun-filled day.
Suggest to reading, Wonderla ticket price & More
2]. Fun Amusement Park Bangalore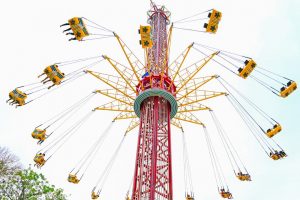 Image Source: funworldblr.com
If you're looking for a reason to visit Fun World amusement park, there are plenty! With 50 different kinds of rides, there's no shortage of fun to be had. Whether you're a kid or an adult, there's something for everyone at Fun World, which was the first amusement park ever in Bangalore City. The park offers a magnificent view, and once you step inside, you'll never want to leave.
Fun World Bangalore is a vast amusement park spread over an area of 22 acres. It is home to high-thrill rides and attractions, including adrenaline-pumping roller coasters and thrilling water slides, that are sure to get your heart racing.
But if you prefer something less intense, the park has gentle rides and attractions suitable for both children and adults.
The park is impeccably maintained, and the staff is incredibly friendly and helpful, ensuring that visitors have an enjoyable and safe experience. With its wide variety of rides and attractions, Fun World Bangalore is the perfect destination for a fun-filled day with the family. friends.
3]. Nandi Hills Bangalore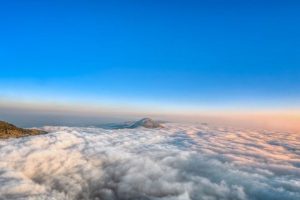 Image Source: Pinterest
Nandi Hills is one of the best places to visit in Bangalore 2023, Perhaps the most unmistakable slice of heaven on Earth is Nandi Hills, located near Bangalore in Karnataka, India. The stunning view of the fog in the sky can be seen from this natural attraction, making it a perfect spot for photography and trekking.
The best time to visit this place and witness the mesmerizing views is from August to March. Nandi Hills is one of the top places to visit in Bangalore, offering the lowest ticket prices and the best vehicle parking facilities.
Its specialty lies in the breathtaking views that offer a glimpse of heaven and the entire Bangalore city. The beauty of this place cannot be expressed in words, and it is listed as one of the most attractive natural places in India.
Nandi Hills transforms with the changing seasons, providing massive views that are truly captivating. It is undoubtedly the most exciting destination on the list of places to visit in Bangalore.
4]. Snow City Bangalore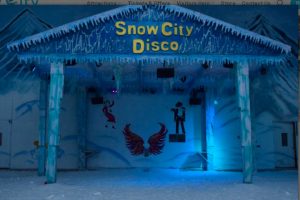 Image credit: Snowcityblr.com
Located in Bengaluru, Snow City is a park with a sense of snow and fog. Mormon settlers in the Himalayas once called this place home to the valley, but now most tourists come for the awe-inspiring views and magnificent hiking opportunities, making it a great family outing and a fun place to stay in this snow city. Buildings are built from snow.
This entry is reasonably priced and has good parking facilities. An ice and snow-themed indoor amusement park featuring frozen slides, rides, and other family activities for kids to enjoy. The -5°C temperature at Snow City offers a snow weather experience, the 1st indoor snow park open 365 days at Snow City Bangalore.
5]. Innovative Film City Bangalore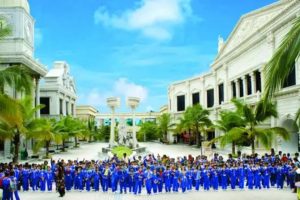 While Universal Studios is now a theme park, The Innovative Film City is located in Bangalore, and pre-wedding photography and video shoots, short films, 3D effects video shooting, and films are also shot here. And you can visit these amazing backscreen views. Used extensively for Indian television reality shows such as Bigg Boss. This film city is now listed as one of the best places to visit in Bangalore, with good parking facilities, reasonable entry fees, and excellent architectural views available from here.
Innovative Film City is a movie studio and amusement park with reality TV set tours and several family-oriented attractions, and there are some other food courts, shopping stores, and others you can get from this city. Innovative Film City is listed among the top 30 famous places in Bangalore.
6]. Government Museum Bangalore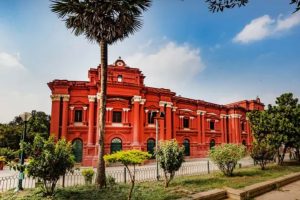 Image Source: Fahotels.com
The best historical place in Bangalore is one of the best places to visit in Bangalore. "Government Museum" (Bangalore) State of Mysore is a government-controlled museum of India founded in 1865 by the Madras Mysore State Museum.
It is one of the oldest museums in India and the second oldest in South India. The museum's collection of rare coins, exquisite sculptures, intricately carved inscriptions, and mesmerizing paintings is truly mesmerizing.
Highlights include an ancient stone sculpture of Lord Ganesha, a life-size model of a dinosaur, a 3,000-year-old Egyptian mummy, and the famous Halmidi inscription, which is the oldest inscription in Kannada.
7]. Lal Bagh Bangalore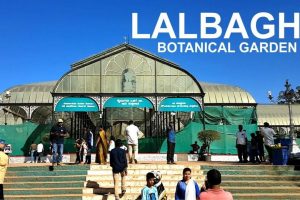 Famous for Lalbagh Botanical Garden [Lal Bagh means red garden in Urdu], Lalbagh Botanical Garden is located in South Bangalore and is one of the major tourist attractions in India. It was commissioned by Hyder Ali, the ruler of Mysore in 1760 and eventually passed on to his son Tipu Sultan. This Lalbagh is listed among the top 10 largest gardens in India.
It is a good natural place for those who are under the stress of city life and daily work and by visiting here you can experience a good natural place visit. There are many plants and other things brought here not only from Bangalore but also from India & abroad. It is ranked 2nd in the list of famous places in Bangalore, know more.
8]. Vidhana Soudha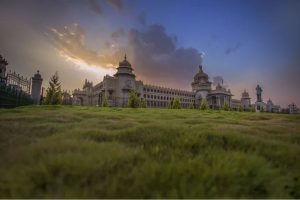 The Legislative Assembly of Karnataka, one of the thirty states under the Constitution of India, is located in Bangalore, the Vidhana Soudha is the state legislature of Karnataka, it was built in the Neo-Dravidian style and construction began in 1951.
The best time to visit the Methodist Church is in the evening when the building is lit up, casting a warm and inviting glow over the surrounding area. The building is especially stunning on special occasions and festivals, decorated with lights and colorful banners.
Besides being a historical and architectural gem, the Vidhana Soudha is also a center of political activity, making it a fascinating destination for anyone interested in Indian politics and governance.
9]. Cubbon Park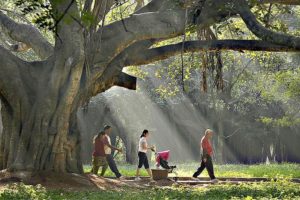 Image credits: TheHindu
Located in the heart of Bangalore city, Cubbon Park Library Museum Tennis Academy Aquarium Adike Trains hosts many statues and pavilions. Cubbon Park has a history of over 100 years. The total area of Cubbon Park is about 300 acres and more than six thousand different species of trees grow naturally only in this place in India.
The park is home to several museums and cultural institutions including the Government Museum, Venkatappa Art Gallery, and the Karnataka State Archives. These institutions showcase Karnataka's rich history and culture, providing visitors with a fascinating insight into the state's past and present.
Cubbon Park is a popular destination for sports and recreation with several playgrounds, tennis courts, and other facilities. The park's landscaped gardens are perfect for picnics and family outings, and the park's lakes and fountains add to its tranquil atmosphere.
10]. Ulsoor lake Bangalore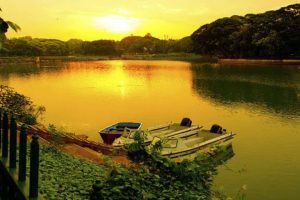 Ulsoor Lake, popularly known as Halasuru Lake, is one of Bangalore's oldest and largest lakes.
The peaceful natural environment of this lake attracts visitors as it is an incredible sight to de-stress and refresh and spend quality time with family.
Moreover, there is an attractive lake close to the city in the eastern part of the city and close to MG Road. And it occupies more than 50 acres of land, and a magnificent view of the lights of the island at night can be seen here.
And here you can take a boat trip for more fun and enjoyment, according to Tripadvisor- here this lake can be combined with a visit to Bangalore's largest Gurdwara (Sikh house of worship).
11]. Iskon Temple Bangalore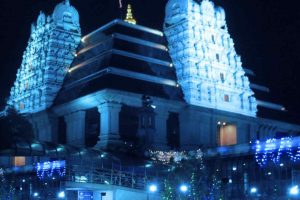 ISKCON Temple is the first religious place in the best places to visit in Bangalore list 2023, this temple has many specialties, it is the largest Radha-Krishna temple in the world, and this temple is one of the most visited temples in Bangalore.
And there is a 17 m (56 ft) high gold-plated flag pillar (Dhwajastambha) and an 8.5 m (28 ft) high gold-plated Kalash shikhara. There is a free distribution of Sri Krishna Prasad to all visitors during Darshan.
The best time to visit here is during the Hindu festival to experience the rituals and other beauty of this temple, ISKCON Bangalore provides free food to the needy. Akshaya Patra Foundation is an initiative started by members of the temple.
12]. Bangalore Palace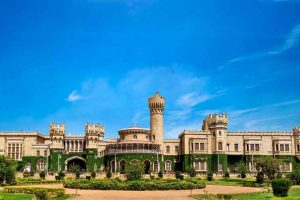 Bangalore Palace is the next tourist place in Bangalore, in fact, there are few palaces available to see in India, among them Bangalore Palace is considered one of the best palaces.
This Bengaluru palace was opened for a public visit by Srikanta Dutta Wodeyar in 2008 and inside this palace, you get a free audio guide in more than 10+ languages.
The palace reflects the Tudor style of architecture. Its complex covers an area of 454 acres along with a garden and is a gift from the British to Wodeyar.
The garden area and attractive architecture attract the tourists more and you can see the collection of photos belonging to the Wodeyar family of Mysore and some antiques are kept in this place.
13]. St. Mary's Basilica, Bengaluru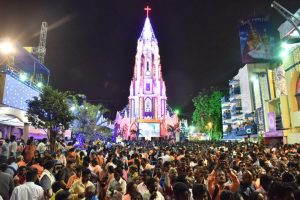 Image: Deccan Herald
St. Mary's Basilica, Bangalore is another religious place that you can visit in Bangalore, it is one of the oldest and most popular churches in Bangalore, and here you can experience several specialties. St. Mary's festival is celebrated in the month of September each year.
With its tall facade, stained glass windows, and loving statues of Mother Mary, it is a sight to behold, you must see it here,
St. Mary's Basilica is very famous in Bangalore because there are few churches in Bangalore whose luxurious and unique design-oriented built architecture will definitely excite you and attract you to take pictures.
14].HAL Heritage Centre and Aerospace Museum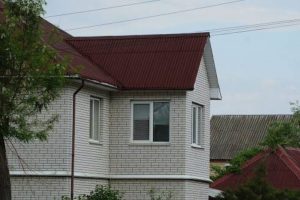 Image: Google
The HAL Heritage Center and Aerospace Museum is a museum located in Bangalore, India, dedicated to showcasing the history and achievements of India's leading aerospace company, Hindustan Aeronautics Limited (HAL).
The museum houses a collection of aircraft, helicopters, engines, and other aerospace-related items that showcase the evolution of aviation in India. Visitors can explore various displays and exhibits showcasing HAL's history, including the development of India's first indigenous aircraft.
Now you can see the collection of objects and detailed gallery related to aerospace and related, and this HAL Heritage Center and Aerospace Museum is definitely a good choice to visit to educate your children about Hindustan Aeronautics Limited.
15]. Bannerghatta National Park and Zoo (Biological Park)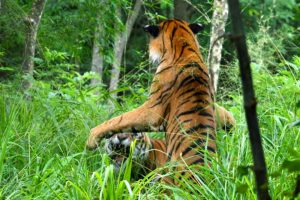 Image: bannerghattabiologicalpark.org
Hey, you are planning to see wild animals on a live visit, but visiting forests to see animals is very dangerous, so they can be easily seen in Bannerghatta National Park and Zoo (Biological Park) Bangalore.
In this biological park, the park's administration brings several types of wild animals from different countries and you can spend a whole day with these wild animals seeing the sights with high security, And lion, deer, elephants, zebra, and other unique animals are also available here.
The zoo occupies a total area of 1,808.5 acres and is one of the largest zoos in India, Bannerghatta Biological Park is located in Anekal Kandaya Taluk of Bangalore City District.
16]. Tipu Sultan's Summer Palace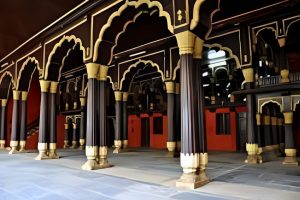 Tipu Sultan's Summer Palace is a historical landmark located in Bangalore, India. It was built in 1791 by Tipu Sultan, the ruler of the Mysore Empire, for his summer retreat.
The palace is a beautiful example of Indo-Islamic architecture and is known for its intricate carvings and ornate frescoes. The palace has two floors and is made of teak wood. It has a central hall with pillars, arches, and balconies. The walls are decorated with colorful frescoes depicting various scenes from the life of Tipu Sultan.
Visitors to the palace can explore various rooms and chambers, including the Durbar Hall where Tipu Sultan held court, and the Zenana quarters which housed his family and concubines.
One of the highlights of the palace is the beautiful garden that surrounds it. The garden has a variety of plants, trees, and flowers, as well as a fountain and water canal running through the center.
17]. Commercial Street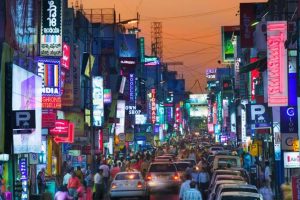 Image: Google
Commercial Street is a major shopping destination for Bangaloreans, why not try this shopping street to complete your day by grabbing your favorite items? from this 17th Best Places to Visit in Bangalore 2023.
In this commercial street, you can find handicrafts and the latest trending wearables and clothes for men and women and your children.
Commercial Street is one of the oldest and busiest shopping areas in the city, this road is famous for clothing, footwear, jewelry, electronics; and food joints, Experience the night view of the beautiful commercial street.
18].  Visvesvaraya Industrial and Technological Museum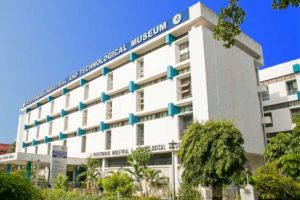 Visvesvaraya Industrial and Technological Museum (VITM) Bangalore is another museum you must visit in Bangalore for experienced electronics and new technology innovations.
In this museum, you can first visit the science hall created in 2019 with your children, which is spread over an area of 263 square meters with 27 interactive exhibits, Allow young children to explore, experience, and enjoy science through touch, feel, and move.
Moreover, in this museum Science Park, Wright Brothers Airplane, 3D Exhibition, Science on Globe, Dinosaur Enclave, Biotechnology Gallery, and Fun Science and you can explore here.
19]. UB City Mall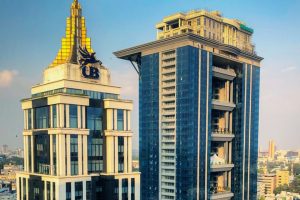 Image: executivecentre.com
UB City is the next must-see in Bangalore, it is a luxury mall in Bangalore, luxury shopping and entertainment, a food court, and many more things that you can easily explore here.
The complex consists of four towers, including UB Tower, which is the tallest commercial building in Bangalore. The towers have a mix of office spaces, luxury apartments, high-end retail shops, and restaurants.
UB City is home to a range of luxury international brands including Louis Vuitton, Rolex, Canali, and Burberry. The shopping complex also houses a luxury spa and salon and a state-of-the-art fitness center.
Besides shopping, UB City is known for its fine dining options. The complex has a range of restaurants, cafes, and bars, including Michelin-starred restaurants Farzi Cafe and Caperberry.
20]. Jawaharlal Nehru Planetarium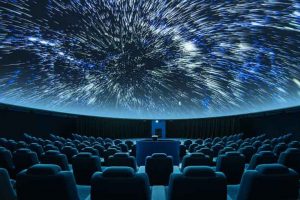 Image source: Yometro.com
Jawaharlal Nehru Planetarium is a great destination for tourists interested in astronomy and space science. The planetarium offers a unique and immersive experience of the night sky, and educational programs and exhibits aim to promote scientific awareness among visitors.
The planetarium is located in the heart of Bangalore and is easily accessible by public transport. It is open throughout the year and visitors can choose from several exhibits and programs based on their interests and preferences.
Besides the planetarium, there are several other attractions nearby such as the Indira Gandhi Musical Fountain and the Raj Bhavan, which can be combined with a visit to the planetarium to make for a fun and educational day out.
Faq's
1]. Where can I enjoy in Bangalore?
During this summer you can enjoy your holidays at Wonderla, Fun amusement park, and snow city to experience the chill during this summer.
2]. Which is the most visited place in Bangalore?
Cubbon Park is one of the most visited places in Bangalore because of its affordable ticket price and more attractions with a diverse collection of plants from around the world. Apart from being a natural sightseeing spot,
Cubbon Park has several popular attractions including Attara Office, Cubbon Park Museum, Bangalore Aquarium, and Seshadri Iyer Memorial Park. With so many sights to see in one place, it is a popular destination for people to visit on weekends.
3]. Where can I go for half day trip in Bangalore?
A visit to Snow City is a great option this summer, and otherwise, also you can try Bangalore Palace or Tipu Sultan's Summer Palace.
Final words: In conclusion, In this Places to visit in Bangalore article we've covered top research, apart from that Bangalore is a city of diverse cultures, traditions, and modernity. The city offers exciting places to explore including historical landmarks, beautiful gardens, shopping venues, and modern architecture.
From the enchanting Lalbagh Botanical Garden to the buzzing commercial streets, this vibrant city has something for everyone. With its pleasant climate and friendly people, Bangalore is a must-visit destination in 2023.
I hope you enjoyed this post, then share this one with your friends and family on different social media and support the BT team.