What are the best laptops in India 2023 | If you're looking for a laptop in 2023, this is probably a good move, but you should pay attention to the various configurations that a laptop can include when choosing one that works for your needs?
Because, In the Indian market, you can get several brands and different purpose-oriented laptops from certified brands as a purchase option in the market, so you need to buy the best one that can handle your work requirements.
Most people fail while choosing a good-performing laptop and then suffer from choosing an average laptop due to lack of knowledge because not everyone is an expert in all areas but it is essential to choose a good laptop so that you can have a better experience with an efficient and long-lasting laptop.
So, our expert team is here to help you with this issue, and for the past few weeks we have done proper thorough research on these laptops finally, the best laptop in India 2023 is listed here, which are the best-performing laptops that can be more productive.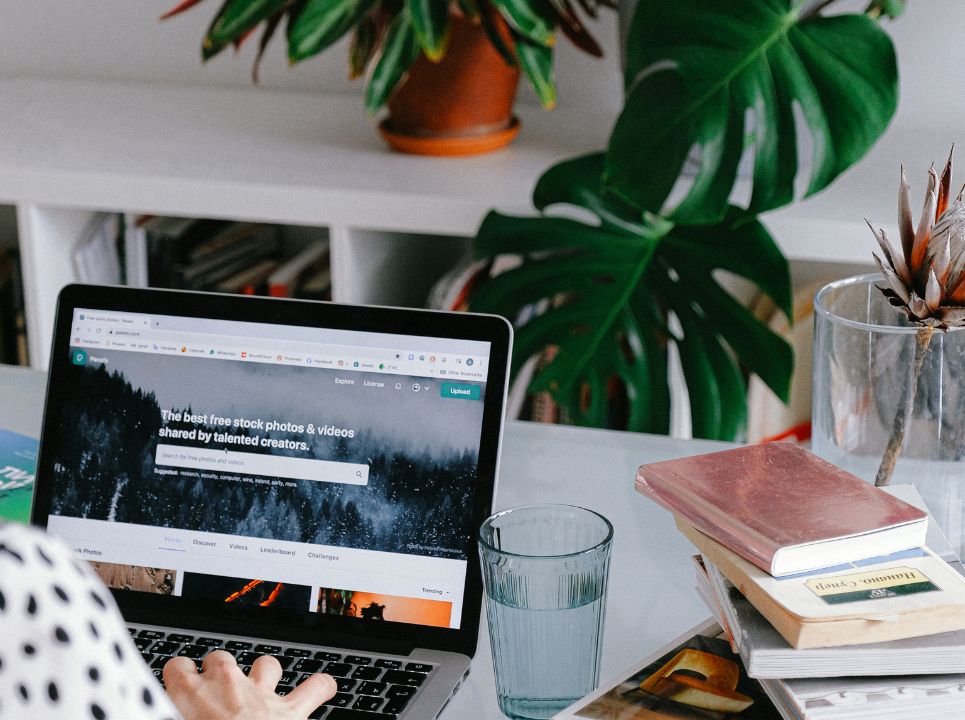 Moreover, At the Indian market level, you can get top-class laptops from trusted brands like HP, Lenovo, Dell, Apple, Acer, and some other popular brands that are constantly working to improve the quality of technology in laptops.
And also Manufacturing brands that provide specific laptops for different purposes like gaming, video editing business or study, programming, and 50+ other essential specific terms of use, laptop models are also available based on your budget, so you should identify and choose the device that matches your needs.
In a single suggestion, I would prefer HP Victus Ryzen 5 as the best laptop in India 2023
Now, don't waste any more time go to the list below and finalize your work or study friend and make it yours now and hope you enjoy the article on the best laptops in India 2023.
List of Best Laptops in India 2023
Hp Victus Ryzen 5
Asus Zenbook 13
Hp Envy x360
Dell G5
HP 14s
Asus ROG Strix G17
Hp Pavilion 15
MSI GF75
Lenovo IdeaPad Slim 5
Microsoft Surface 4
Best Laptops In India (2023)
Best Laptop in India 
HP Victus Ryzen 5 Specifications
| | |
| --- | --- |
| Processor | AMD Ryzen 5 5600H |
| Display | 16.1-inch FHD |
| RAM | 8GB DDR4 |
| Storage | 512GB SSD |
| OS | Windows 10 |
| Battery Backup | 4 hours on average |
| Weight | 2.48 KG |
Reasons To Buy
The 512 GB of SSD with Nvme M.2
Full functional Backlit keyboard
Reasons to Avoid
Only 4 Hours of battery backup
Learn More | 900+ Ratings | 700+ Answered questions
Micro-edge display and oriented HP Victus Ryzen 5 is the best laptop in India 2023, Do you know why I consider HP Victus to be the first laptop on the list? It is designed to attract the attention of buyers, Identifying the disadvantages of this laptop is a very complicated process, as this machine has a high level of configuration and it is from the HP brand, let's take a deeper look at it below.
Firstly, A HP Victus is designed with a backend V logo based on core geometry and a distinctive tattoo on the backend charging point, and a wide event design that adds visual appeal and increases thermal efficiency, making it a slim and decent-looking flexible flicker-free display.
A high-end configuration is essential for a laptop to perform well, so this laptop comes with a high-end configuration, under which I will first talk about the processor, in this machine you will get Ryzen 5, CPU. Powered by 6 cores and 12 threads with a base clock speed of 3.3 GHz, it delivers powerful performance on daily multitasks and heavy work.
This laptop is suitable for gaming, studying, content creation, video editing, business-oriented content creation, and any other demanding use, so it is the right choice to perform your essential work more productively.
It's time to go into detail about the configuration of this machine, 8GB RAM in this laptop with ddr4 technology helps to reduce the response time in your commands and perform well and it helps to work more productively.
Most people opt for a large-screen laptop, so Hp has made it the ClearView experience with a large-screen display to offer a high-quality display from the point of view of protecting the user's eyes.
Highlights
The Voice Assistance of Alexa is Built-in for Voice Commands.
Upgraded GPU Cooling System for productive graphical requirements.
So, HP Victus is built with what you look for in this laptop, you get a 16.1-inch full HD display with flicker-free features and IPS technology of 250 nits micro-edge display with a 60 Hz refresh rate, all of which will surely entertain you while using this machine.
Additionally, you get pre-installed HP Office Microsoft Office Home and Student 2019 software, and Windows 10 operating system on this laptop and you can upgrade to Windows 11 for free from their official site.
The machine is powered by a GeForce GTX 1650 with a built-in Nvidia GPU, along with a 4GB GDDR6 dedicated graphics card to handle graphical works.
Additionally, the HP Victors weighs an average of 2.4kg and runs 4 hours of gaming battery backup with HDMI ports and USB ports, resulting in faster connections and data transfer capabilities.
Suggested to read, Best laptops under 60,000
2] ASUS Zenbook 13
Best business laptop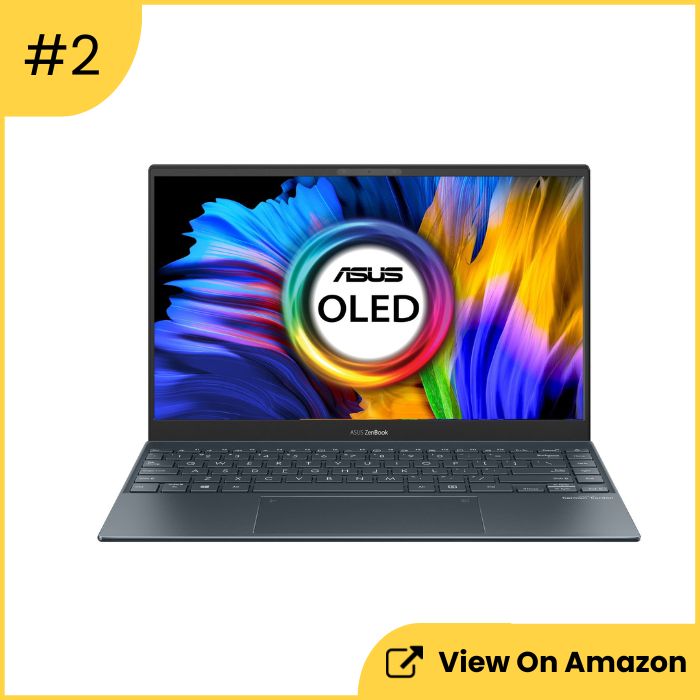 ASUS Zenbook 13 Specifications
| | |
| --- | --- |
| Processor | Intel Evo Core i5-1135G7 |
| Display | 13.3 Inch FHD OLED |
| RAM | 8 GB DDR4 |
| Storage | 512 GB SSD |
| OS | Windows 11 |
| Battery Backup | 14 Hours |
| Weight | 1.13 KG |
Reasons To Buy
LED Backlit OLED Display with 400 nits brightness
1-Year McAfee Anti-Virus
Reasons to Avoid
Learn More | 100+ Ratings | 50+ Answered questions
Asus ZenBook 13 This laptop with high battery backup laptops is the thinnest and lightest and the best choice in this list, mainly for business professionals, the final base is cool and the Asus logo is an impressive finish, and this all-metal build and light ZenBook is the world's thinnest 13- inch laptop.
And ASUS ZenBook 13 comes with a Core i5 2.4 GHz base speed, turbo boost speed up to 4.2 GHz, 4 cores, 8 threads, and 8MB cache processor, which helps you to be more productive.
Ideal for – ASUS Zenbook 13 is ideal for business professionals and students and people who work from home.
The display occupies the top position in every laptop, so ASUS has brought you ASUS ZenBook 13 with the latest 13.3-inch LED Full HD display with 400 nits Pantone valid 88% screen-to-body ratio, a laptop with a glossy panel.
Highlights
Up to 18 hours of battery life
8GB LPDDR4X onboard 4267MHz RAM
Talking about the other features of this machine, there is an integrated Intel Iris graphic card which is sufficient for the use of business professionals and students,
And you get 8 GB RAM LPDR4X along with 512 GB M.2 type 3.0 SSD storage, both elements will impress you with great performance capabilities during long work sessions.
In addition, the laptop offers good battery backup depending on your purpose of use, and with a metal chassis and 1.14kg lightweight laptop you can take anywhere for about 18 hours and can easily take a year of McAfee with laptop antivirus and MS Office home and students. 2019. Business Work.
3] HP Envy X360
2-in-1 Convertible Touchscreen laptop
| | |
| --- | --- |
| Processor | AMD Ryzen 5 4500U |
| Display | 13.3 Inch Touchscreen FHD |
| RAM | 8 GB DDR4 |
| Storage | 512 GB SSD |
| OS | Windows 11 |
| Battery Backup | 12 hours on average |
| Weight | 1.3 Kg |
Reasons To Buy
Windows 11 Pre-Installed
360 Degree flexible rotatable
Reasons to Avoid
Learn More | 400+ Ratings | 200+ Answered questions
HP Envy x360 is one more laptop of the hp brand, it is a 2-in-1 convertible touchscreen machine with amazing configuration and impressive design, and an affordable price list, HP Envy x360 laptop has touch-enabled, and a design that attracts the attention of buyers.
First of all, this laptop comes pre-installed with Windows 11, so you don't have to worry about the Windows upgrade process, if you are facing a lack of knowledge about it, moreover, the HP Envy laptop has interesting features that allow you to make this laptop your own.
In this laptop, HP provides a Ryzen 5 of 6 cores and 12 thread-based AMD processors with 2.3 GHz speed to continuously boost the performance of your laptop.
And the 13-inch laptop is suitable for multi-purposes like business, studies, and travel, as well as for working from home and any other things but are you looking for a heavy graphic card laptop then go ahead with another laptop respectively on this best laptops list otherwise, you can go ahead with this touch-enabled laptop.
The Envy x360 laptop had a 13.3-inch convertible touchscreen with FHD resolution and easy access to carry wherever you go without any distractions. Edge-to-edge and glass and micro-edge display with IPS technology.
Highlights
Around 13 hours of battery backup with fast charge: approximately 50% in 30 minutes.
Backlit keyboard with a fine finish
And multitouch-enabled with Corning Gorilla Glass can experience the display, Your laptop displays are lossy as well as 400 nits are just amazing on this list with 100% RGB.
Beyond that, you get 8GB of DDR4 technology RAM and 512GB of SSD storage, and an AMD Radeon graphic card,  All these things certainly deliver an impressive performance when used according to their specific requests fields.
Additionally, It has a touch screen and 720 pixels HD with a camera and backlit keyboard and 1 empty slot for storage expansion in MS Office and Student 2019 free software and powerful super-speed USB Type C and convenience respectively.
The 1.3kg lightweight laptop can deliver up to 16 hours of battery backup performance on a single charge, which was an impressive feature of the machine for buyers.
4] Dell G5
Best laptop for Creators
| | |
| --- | --- |
| Processor | AMD Ryzen 5-5600H |
| Display | 15.6 Inches |
| RAM | 8GB DDR4 |
| Storage | 512GB SSD |
| OS | Windows 10 |
| Battery Backup | 8 hours on average |
| Weight | 2.57 KG |
Reasons To Buy
8 GB RAM with ddr4 technology
LED Backlit Narrow Border Display
Reasons to Avoid
Learn More | 200+ Ratings | 50+ Answered questions
Hey, are you bored of the above HP brand laptops or others also, If so then try the Dell 15 which is the latest model of the Dell brand and is quite interesting and good for content creators, I placed Dell 15 at the 4th position in this list?
The Dell G5 has a cool decent look with a backlit keyboard and handy trackpad for easy access and a very unique build-out body that is standard for quality and duration.
Let's talk about the CPU, it's an AMD Ryzen 5 processor with 6 cores 4.2 peak speed, and 12 threads that definitely produces high-end performance.
This machine is especially suitable for content creators, i.e. video editing or graphical and Android development, text content writing, and other digital marketing tasks you can easily do with this machine as it has a very valuable configuration that accommodates your work and gaming purposes.
The process of working with a low-end display configuration is complicated, so try it 15.6-inch full HD display laptop with anti-glare technology to block radiation from the laptop display and backlit narrow frame technology with a 120Hz refresh rate that gives a performance experience.
Highlights
The Thermal systems utilize copper piping to dissipate heat as it's pulled through the top of the keyboard.
Rapid refresh rates and FHD resolution ensure fast, smooth, and detailed gaming.
Play with up to 165Hz display panel with 300-nit brightness.
Coming to the GPU, it has the latest 4GB gddr6 Nvidia GeForce graphics card to handle graphically related tasks, additionally, you get 8 GB ddr4 technology-based RAM to boost your laptop's performance throughout the day without any issues.
Also, you get Windows 10 operating system to manage your laptop and you can upgrade to Windows 11 for free from their official site You get a backlit keyboard for easy typing in the dark
Now time to look at the final details of this machine, It has MS Office Home and Student 2019 and Super Speed USB with Power Share and another USB port for Type C data and transfer.
5] HP 14s
Excellent CPU laptop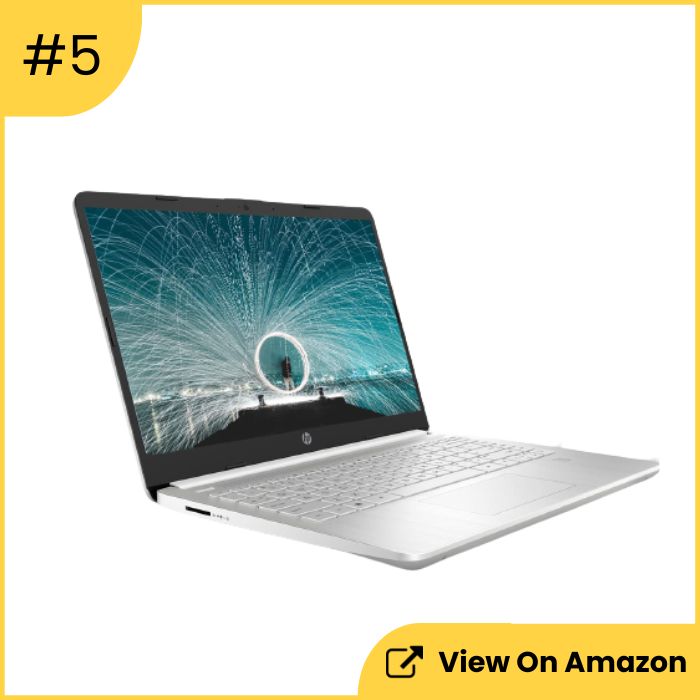 HP 14s Specifications
| | |
| --- | --- |
| Processor | AMD Ryzen 7 |
| Display | 14-inch FHD |
| RAM | 8GB DDR4 |
| STORAGE | 512GB SSD |
| OS | Windows 10 |
| Battery Backup | 9 hours on average |
| Weight | 1.41 KG |
Reasons To Buy
AMD Ryzen 7 Processor
Backlit Keyboard
Reasons to Avoid
The Graphics card is an average
Learn More | 100+ Ratings | 200+ Answered questions
HP 14s is another amazing laptop from the HP brand, it is the best CPU laptop in the list that will do your work in seconds, stay here to know all the components of this machine,
Firstly, It is designed with a laptop single bar hinge and thin bezel options, this device features lightweight, streamlined technology.
In this machine, you can experience the fastest AMD Ryzen 7 processor with 8 cores and 16 threads with a maximum boost clock speed of 4.3 GHz.
Perfect for – This laptop is perfect for daily use and the 2-in-1 multipurpose whether it's business or studying other important things you can do with it.
Also, this machine has an inbuilt 8GB ddr4 RAM, which is the fastest technology to boost your laptop for performance speed and with 512GB M.2 SSD storage, both the combination will help your work at any cost. There is one to complete, It will be given a wonderful performance experience.
Display, known as the most essential feature of every laptop, the HP this laptop has a top-rated 14-inch diagonal full HD display with IPS technology and 157 PPI with micro-edge along with 250 nits of 45% NTSC and it Provides an anti-glare screen.
Highlights
Cutting Edge Display – Bring to life the visual experience. With Micro Edge Display and an HD or FHD resolution
AMD Ryzen 7 gives you a seamless experience.
And it came with an inbuilt Windows 10 operating system and you can upgrade to Windows 11 for free from their official site after using MS Office Home and Student 2019 and Alexa smartly.
Also on this machine, HP offers an AMD Radeon GPU to handle the graphical requirements and the ability to keep or keep your device colorful and lag-free.
Equipped with an HD webcam with an erected-in microphone and binary speakers, your HP laptop can turn any space into a literacy paradise. Attend online classes with impeccable clarity and work on critical systems with consistent ease.
You can Do more than ever for the whole day with a 3-cell lithium-ion prismatic battery that lasts up to 9 hours, you can push your system to the limit, The hassle of worrying about battery life ends here.
6] ASUS ROG Strix G17
Best Gaming laptop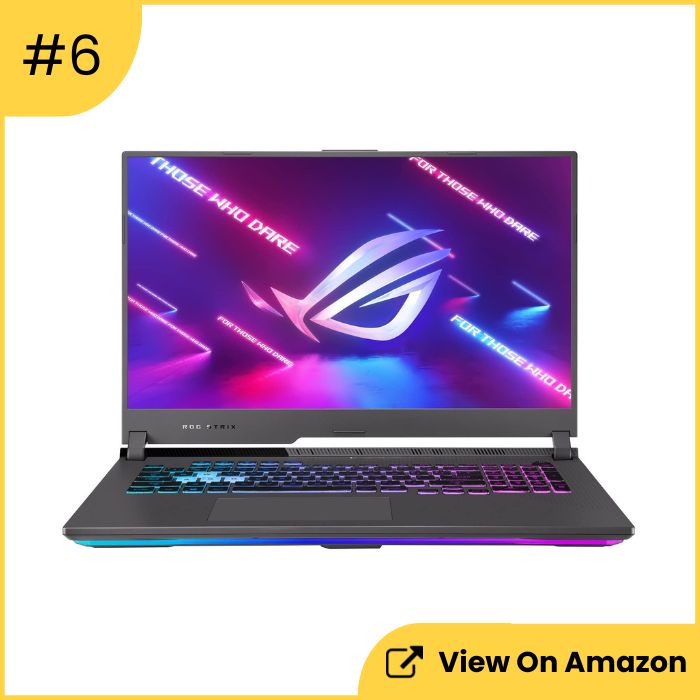 ASUS ROG Strix G17 Specifications
| | |
| --- | --- |
| Processor | AMD Ryzen 7 |
| Display | 17.3-inch FHD |
| RAM | 8GB DDR4 |
| STORAGE | 512GB SSD |
| OS | Windows 11 |
| Battery Backup | 4 hours of gaming |
| Weight | 2.40 KG |
Reasons To Buy
RGB Backlit Chiclet Keyboard
Dedicated NVIDIA GeForce GTX 1650 GDDR6 4GB VRAM
Reasons to Avoid
Learn More | 100+ Ratings | 200+ Answered questions
The best gaming laptop of 2023 is the ASUS ROG Strix G17, It can handle the most demanding games in the market today and also makes a great daily tasks driver
Asus brings you the ROG series of high-performance laptops with a possible configuration that offers unstoppable entertainment along with writing tasks, let's delve deeper into this machine for more details.
Asus Rog Strix G 17 is upgraded from an Asus laptop with Rog series specially built for gamers, with a powerful CPU and GPU with a fast 144 Hz refresh rate to produce productive performance during gaming without any lags.
The ROG Strix G17 Advanced Edition is one of the few gaming laptops to feature an AMD Ryzen 7 processor with a base speed of 2.9 GHz, with a maximum boost speed of up to 4.2 GHz, with both 8 cores, 16 threads, and a dedicated NVIDIA GeForce GTX 1650 GDDR6 with 4GB VRAM, Dynamic Boost GPU.
Highlights
Adaptive-Sync technology
McAfee Anti-Virus With 1-year validity
Don't worry – it delivers gaming performance similar to what you'd expect from a laptop with Nvidia's top GPUs. It also offers the best gaming battery life we've ever seen – it features Red Dead Redemption 2 technology so you can play for over 4 hours without a charger.
Also, it has 512GB SSD storage and 8GB ddr4 technology RAM, and Windows 11 Home operating system and battery backup.
7] HP Pavilion 15
Best Windows laptop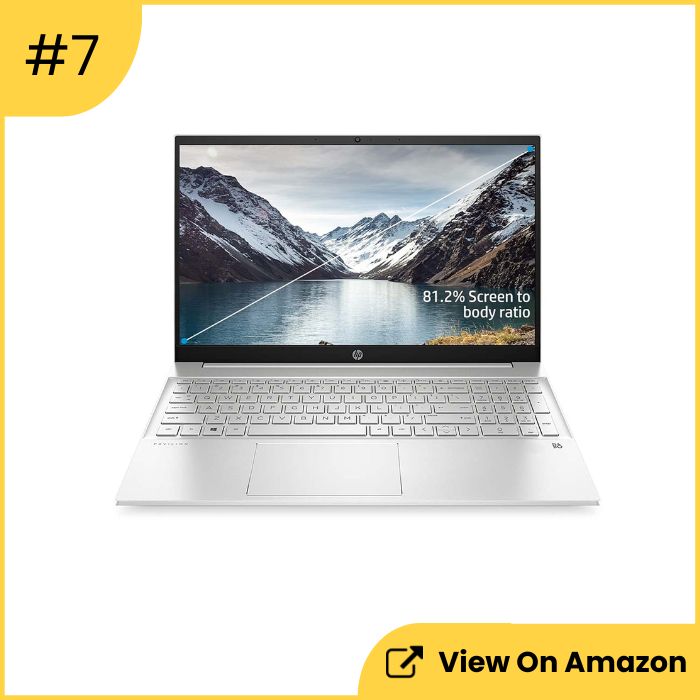 HP Pavilion 15 Specifications
| | |
| --- | --- |
| Processor | Intel Core i5 |
| Display | 15.60-inch FHD |
| RAM | 8GB DDR4 |
| STORAGE | 512GB SSD |
| OS | Windows 10 |
| Battery Backup |  8 hours on average |
| Weight | 1.75 KG |
Reasons To Buy
The 512 GB of SSD with Nvme M.2
Microsoft Office Home & Office 2019
Backlit Keyboard
Reasons to Avoid
Intel Iris Xe graphics card
Learn More | 250+ Ratings | 200+ Answered questions
This HP Pavilion 15 can be said to be the best Windows laptop on the list because it has the latest Windows 11 operating system and the latest Intel Core i5 processor with 4 cores and 6 threads, which responds to your commands within a few seconds and runs smoothly.
In this machine, you get a 15.6-inch FHD display with IPS Techno, Micro-Edge, Bright View, 250 Nits, 45% NTSC, etc. The laptop display has been designed keeping in mind the user's concerns,
However, there is a possibility of lack of eye strain when you expose the device for a long time, so the anti-glare technology is oriented to protect your eyes from the useless radiation of the laptop,
And it blocks the glare of the sun and light on the screen, unless you work on your computer near a window that is exposed to sunlight, there is often no need for a bright screen or filter.
Highlights
Windows 11 home 64 plus
HP Wide Vision 720p HD Camera
You get 8GB of RAM with the latest ddr4 technology-based, to make you feel better than a low-end device with less capacity, RAM was also one of the key components of every device and the performance of the device depends on it.
The device came pre-installed with a Microsoft Office Home and Office 2019 backlit keyboard for use by students and business professionals, and day and night use.
The operating system is the most important component of every laptop or desktop, so you need to choose the best one available. For video editing, gaming, and your use, the Iris XE graphics card by Intel deliver heavy graphical needs in seconds.
Storage type is an essential part of every device as it plays a vital role when you are looking for the storage of a database on your device, so it has 512 GB SSD storage for faster and bigger storage features without any delay or hangs and bugs.
8] MSI GF75
Big Screen laptop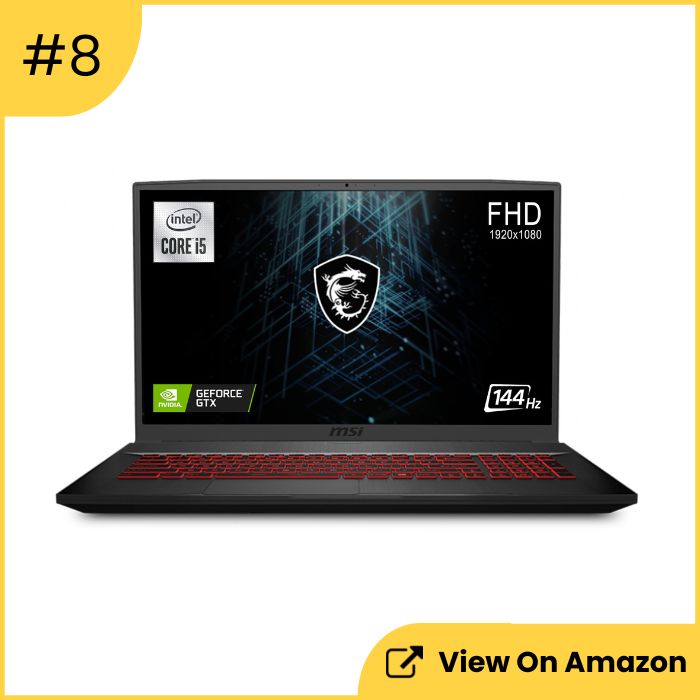 MSI GF75 Specifications
| | |
| --- | --- |
| Processor | Intel Core i5 |
| Display | 17.3-inch FHD |
| RAM | 8GB DDR4 |
| STORAGE | 512GB SSD |
| OS | Windows 10 |
| Battery Backup |  8 hours on average |
| Weight | 2.2 KG |
Reasons To Buy
A 17.3″ FHD Display, IPS-Level 144Hz Thin Bezel
Steelseries RED Backlit Keyboard
Reasons to Avoid
Learn More | 500+ Ratings | 200+ Answered questions
For big screen lovers, I bring you the MSI GF75 laptop, which has a 17.3-inch large screen for uninterrupted entertainment, The ultra-thin and light design Steelseries RED backlit keyboard completes the most powerful powerhouse.
MSI GF75 comes with a highly optimized Core i5 CPU based on 4 core 6 threads processor that can increase the productivity of a laptop powered by Intel, perfect for – it was really a 2-in-1 laptop, so you can access multi-purpose like business and study, and travel and work from home and Any other things can be easily handled in it
In this MSI GF75 laptop, you get 8 GB RAM storage based on DDR4 technology to help you get quick access to this machine in commands and multitasking makes it very comfortable.
Highlights
Steelseries RED Backlit Keyboard.
NVIDIA GeForce GTX1650 GDDR6 4GB Dedicated Graphics
Also, your OS powered and powered by Windows 10 comes with the latest 10th generation O/S with a lifetime warranty and free upgrade to Windows 11, built-in NVIDIA GeForce GTX1650 GDDR6 4GB dedicated graphics card to handle your graphics-related work.
If you are looking for a laptop that comes with huge storage then here's one, It has 512 SSD storage for the storing of your data with a better performing one, Among them, it has a 2.2 Kg weight so easy to carry anywhere without disturbance, and battery backup of up to 6 hours on average estimated.
9] Lenovo IdeaPad Slim 5
Best for Students & Business use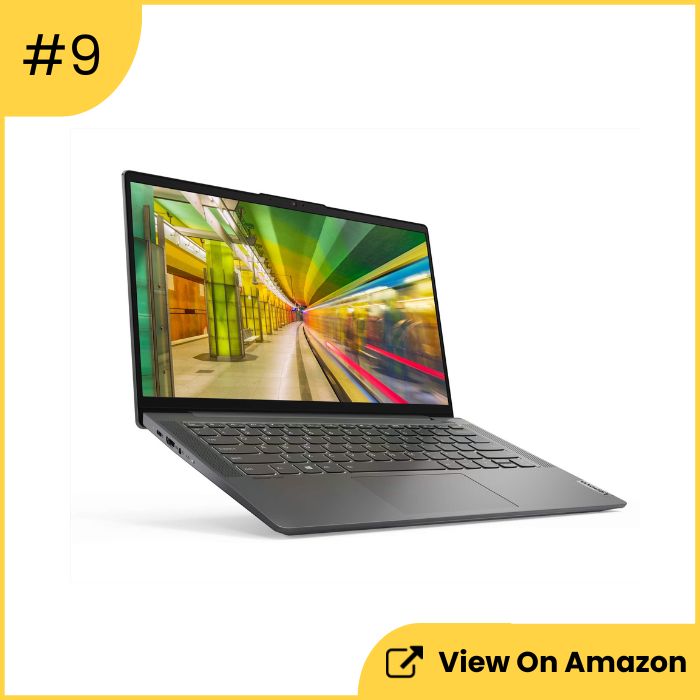 Lenovo Ideapad Slim 5 Specifications
| | |
| --- | --- |
| Processor | AMD Ryzen 7 |
| Display | 14-inch FHD |
| RAM | 8 GB DDR4 |
| STORAGE | 512 GB SSD |
| OS | Windows 10 |
| Battery Backup |  7 hours on average |
| Weight | 1.69 KG |
Reasons To Buy
5th Gen AMD Ryzen 7 5700U fastest processor.
 Integrated AMD Radeon Graphics
Aluminium Material Top
Reasons to Avoid
14 Inch medium size Display
Learn More | 500+ Ratings | 200+ Answered questions
Hey, you're a student and looking for a machine that's fast and efficient in your software usage, and you can access it according to your study needs, So here you can choose this Lenovo IdeaPad Slim 5, know its performance and more details here below.
Firstly, Lenovo IdeaPad Slim 5 laptops come with AMD Ryzen 7 5700U, the processor comes with a better clock speed of 4.2 GHz with a current configuration of 6 cores and 12 threads to improve your laptop's performance and add value to your work performance.
And another factor is Extra E which packs up to 8GB RAM with the help of the latest ddr4 technology to boost your laptop performance and reduce response time and it takes your laptop to the next level.
The fingerprint reader is one of the two exciting features of this Lenovo IdeaPad Slim 5, worry-free secure login and switching to your laptop.
You get a 512GB SSD for faster storage type and shorter response times. If you want to increase your storage capacity, already built-in empty slot for additional slots to increase the storage according to your need.
Lenovo offers Windows 10 Home operating system and you can upgrade to Windows 11 for free from their official website, it has your favorite unit with more configuration and it comes with 14 inches full HD display along with displaying IPS technology. Protected display with 45 percent NTSC for clear viewing with an immersive quality experience.
Special Features
The backlit keyboard lights up for smooth working during Late Night Shift.
Stunning color accuracy takes your experience from good to great.
This is a style statement. Featuring a durable aluminum surface and metal finish weighing only 1.39kg.
An amazing backlit keyboard and Aluminium material design with a 1.79 CM lightweight laptop for 127 Hours with an average battery backup with a Rapid charge of up to 80% in one hour.
The 720 pixels of web camera with Fixed focus technology and additional integrated dual microphone help you in attending online classes meetings through third-party software.
Except for these MS Office home and student 2019 software was pre-installed on this laptop for student and business purposes. and you get integrated AMD Radeon graphics for handling graphical requirements with good responses.
10] Microsoft Surface Laptop 4
Best laptop for Programming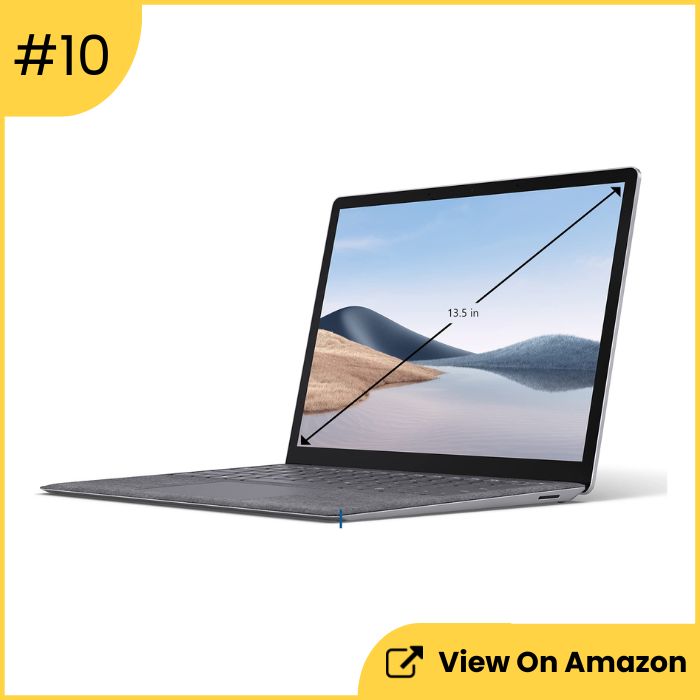 Microsoft Surface Laptop 4 Specifications
| | |
| --- | --- |
| Processor | AMD Ryzen 7 |
| Display | 14-inch FHD |
| RAM | 8 GB DDR4 |
| STORAGE | 512 GB SSD |
| OS | Windows 10 |
| Battery Backup |  7 hours on average |
| Weight | 1.69 KG |
Reasons To Buy
AMD Radeon Graphic card
An Average 19-hour battery backup
Reasons to Avoid
Learn More | 50+ Ratings | 10+ Answered questions
Microsoft Surface is a touchscreen-based multipurpose laptop on the list, this Microsoft Surface Laptop will be selected as the best laptop for programming in India in 2023. Let's see because it comes with real configurations to make your experience better than others.
The Microsoft Surface laptop had an Intel Pentium Gold processor along with a dual-core 2.3 GHz of clock speed for quick access to your commands and more, A Windows 10 home in S Mode with lifetime validity from Microsoft for getting quality service of Windows OS service.
Microsoft Surface Laptop comes with an Intel Pentium Gold processor with dual-core 2.3 GHz clock speed, quick access to your commands, and more, Windows 10 Home in S mode with a lifetime warranty from Microsoft to get Windows OS service quality.
An 8 GB DDR3 RAM with Graphics: AMD Radeon Graphics to handle graphical needs like programming, gaming, video editing, and animation or work.
But actually, one poor feature it has is 256 GB SSD storage to store and boost your laptop performance speed, a 10.5″ PixelSense display with 1920 x 1280 (220 PPI) resolution, and a touchscreen-enabled. And 10 hours of average battery life for attending online classes.
Highlights
Touchscreen enabled &  Surface Pen enabled.
AMD Ryzen 5 4680U Processor.
Connect and maintain the way you want to start Just 0.544kg (Type Cover* not included), with a long battery life of up to 10 hours, use it as a laptop or tablet, learn, write, and sketch The Surface Go 2 can handle every to-do item for the rest of your day. Jot down ideas, help with homework, create presentations, and practice them.
A better way to relax – now offering a new 10.5″ PixelSense display with a touchscreen that's perfect for ebooks, web browsing, and streaming your favorite shows.
Seamless, safe, and secure – sharing the Surface Go 2 with your family is seamless and secure with parent-managed screen time limits, spending controls, and content filtering.
Laptop Buying Guide 2023:
When you go to buy a laptop, you should make sure that it includes some essential features that have a major impact on the performance of every laptop, let's see the important configurations that should be included.
Points to consider while choosing the best laptop in India 2023
1]. Operating System
An operating system as it is known as an OS is a capable and cosmic program designed to control, monitor, and manage both hardware and other software on a PC or computer. Every device that is similar to a computer and even the computers themselves use an operating system.
It can range widely from desktops to laptops, tablets, smartphones, routers, smartwatches, and many more. Everything you use to go online or access hardware applications will use the operating system because they are the heart and soul of your computer.
Simply put, the operating system is the core software that gets integrated with the laptop's processing system. There are generally three main types of operating systems such as OS X from Apple Macintosh, Windows from Microsoft, and Linux which is a free open software operating system.
All three of these systems perform well in terms of performance and performance on specific software applications such as Internet browsers, Microsoft Office, and media players. Despite Windows being the best-selling operating system of all time, OS X is in high demand for its publishing and graphics capabilities and capabilities.
A). Windows
Your laptop computer's operating system is just as important as your auto's engine. However, you can't conceivably anticipate making a good computer for yourself, If you don't choose a duly operating system that has been completely upgraded.
As for options, fortunately, there aren't numerous. You can conclude for either Windows, which happens to be the most popular, Apple, which is great in terms of stoner interface and convenience, and eventually, Linux, which is substantially recommended for druggies who watch about sequestration and security. We do. I'm upset
B). Chromebooks
The Chromebooks are the rearmost edition, It takes the coming position of a computer designed to ameliorate the standard of performance of the laptop, So you get effects done much more briskly and simplified
.Because it works under chrome Zilches base and it's a featherlight and fastest ever to compare with any other OS in specifically browsing generalities.
 a]. Suitable for
In particularly used for online classes and research and also studies related.
You can option this In case are you from arts or commerce student and looking laptop is particularly only for study purposes HP Chromebook is a good choice.
This laptop was suitable for whoever looking for light use like browsing & making notes and documents or anything else.
2]. Screen Size
Most of us are comfortable with the idea of a compact being our average small device and many of us feel the opposite. Your upcoming screen size, stylish laptop screen? Or does size matter?
.
Well, you can choose a suitable size based on what you want to do on your brand-new laptop. When we talk about the RAM or ROM of the laptop, it can be easily upgraded later but the screen size cannot be increased so the decision is yours.
Generally, laptop sizes can start from 11.6-height and up to 17.3-height with all types of screen laptops available from different brands.
The maturity of brands like Dell, HP, Acer, and ASUS offers three different types of display sizes ie 13.3 height, 15.6 height, and 17.3 height. However, many manufacturers promote laptops that break out of this three-size category and come in sizes like 11.6 tall, 12.5 tall, and 14 tall.
In short, if portability seems to be your preference, you may want to settle for a smaller-sized Windows laptop or perhaps a smaller one. These are significantly sleeker and lighter in weight than their larger counterparts. You can find laptops with screen sizes between 1 kg and 1.5 kg, or screen sizes up to 12.5-height or 13.3-height.
Nevertheless, you should always note that the smaller-sized 13.3-inch units fall far short of the 15.6-inch equivalents when it comes to performance. The reason is that they don't use different plate cards or the same precious Intel Core i7 CPUs. On the other hand, these laptops include a choice of anchors that are less robust.
Still, you should probably look for a laptop with a larger size if you're a plate developer or if you're doing some kind of work that utilizes the power of standalone plates or requires a large-screen display.
There are multiple and different orders of laptops for you to choose from, pieces of specific sizes. To illustrate, ultrabooks place more importance on featherlight and slim looks than luxury performance cases.
On the other hand, scrapbooks bring you a good mix of portability and power. PCs, also known as 2-in-1 laptops or convertibles, have the ability to remove or fold the keyboard into an upcoming position (detachable) so that you can use your new laptop in tablet mode.
Last but not least, traditional gaming and clamshell laptops tend to promote their build and their large form factors include unexpectedly well-built specs. As mentioned, the most important factor to consider when looking for a stylish laptop is to segment what you want to do with it.
It is rare indeed to generalize the fact that one size fits all. Many medicines are portable and can be concluded as cargo lighter. Apart from these drugs, many drugs emphasize separate plates or exceptional computing guests, more like playing high-end games or editing high-quality videos than portability.
Still, if you ask for a PC with long battery life or an optical drive, you'll need to look for bigger goods. Nevertheless, knowledge is important. Once you have decided which laptop size suits you perfectly, the search for a stylish laptop and stylish laptop brand in India is much easier than expected as your options have been narrowed down to perfection.
3. Graphics
You have heard the term 'graphics' and 'graphics card' everywhere in the above sections, what does it mean? For starters, the GPU is the graphics processing unit and the core of your future gaming laptop and for other good purposes like software design. GPU is highly communicated among game enthusiasts who love to experience exceptional gaming pleasure.
With the help of an efficient GPU, your display starts showing images processed from data and transfers them as signals to the monitor screen. Considering how demanding this process is when it comes to working games, it is recommended to use a personal GPU that utilizes VRAM – self-dedicated video memory.
Despite this, gamers follow a good mantra to evaluate gaming PCs these days. Many gaming laptops implement Nvidia GPUs, but if you're interested in AMD, there are a few brands that allow you to configure your system accordingly.
In short, both NVIDIA and AMD are recognized as top manufacturers when it comes to distinguishing mobile graphics. NVIDIA's latest series include the RTX GeForce 20-series: RTX 2080Ti, RTX 2080, and RTX2070. These are expensive but integrated into professional and powerful gaming laptops.
However, AMD's offerings are a bit different. They use Vega chips connected to a CPU that AMD labels as an APU or Accelerated Processing Unit.
Additionally, you'll find some upcoming options that combine both an AMD Vega graphics core and an Intel CPU on a separate chip. These systems have proven to be very powerful and reliable if you consider looking for a laptop that supports the hardware at an ideal price.
But what about cooling? Sure, it's exciting to have a high-performance GPU-based laptop, but what if your laptop can't handle the heat?
It's important to note that high-performance graphics cards use a lot of power, producing heat that can fry the GPU without an effective cooler. There are generally two types of coolers: reference and custom coolers.
Reference coolers can be found on cheap laptops. Typically, this type of cooler case exhausts hot air from the back. This is good because it does not raise the temperature of the PC. Sadly, reference coolers produce more noise than custom coolers.
If you spend a little more, you can fix a high-performance graphics card with custom coolers that are more efficient than reference coolers. These are unique to each laptop manufacturer, including Sapphire's Dual-X, MSI's Twin Frozr, Gigabyte's Windforce, ASUS's DirectCU, HIS's IceQ, EVGA's ACX, and XFX's Double-D.
Custom coolers don't make much noise and do a great job, especially when it comes to maintaining your GPU's coolant level. The only drawback we found is that these coolers reduce the system's ability to handle hot exhaust air in this case at low temperatures.
But wait… looks like we're only covering the GPU's purpose in the gaming aspect of laptops? Can it be used for anything other than providing a better gaming experience?
Yes, it can. Graphics cards are not designed for gaming but are often used for designing and building. We've talked about several consumer-grade GPUs like the GTX 1080 so far.
But Nvidia promotes industrial GPUs from AMD and consumer-grade cards built for high-end processes like 3D modeling and rendering. Titan X Pascal alone is not enough to produce high-end games.
Additionally, it requires a large amount of GPU and VRAM. From our side, the best installed industrial-grade graphics cards are AMD FirePro series cards and Nvidia Quadro series cards. You can get a powerful GPU system from the best laptops in India 2018 listed below at the end of the article.
4]. CPU
When it comes to processors, we like to limit our options to the two major processor manufacturers i.e. Intel and AMD. Just like how you would compare and choose between a Windows and Apple laptop, processors have their competition rigs that require you to decide whether to choose a processor from Intel or AMD. Both types of processors of this type offer both quality and speed.
Furthermore, both these processors put dedicated effort into their CPUs, and even though their implementation methods are completely different from each other, most of their CPUs are still capable of providing enough power to complete a basic computing experience. Huh. ,
But, of course, a simple laptop that takes care of just your needs isn't always a worthwhile investment. Therefore, we present you with a set of standard guidelines that can help you assess which processor seems ideal for the best laptop you choose.
AMD or Intel?
Deciding between AMD and Intel is a historical question that has been going on for many decades. However, today many enthusiasts still consider it important. Even though there are things that cannot be basic and easy in the PC world, the scope of laptops keeps the advantages and disadvantages clear the day.
Before we get into this vast bunch of information, you should note that this is undoubtedly one of the most essential elements that you need to evaluate before choosing the best laptop. As a side note, laptops are generally not powerhouses. They are powered by CPUs that provide a convenient computing experience and even work towards bringing future updates to your machine.
Processing power: When it comes to processing power, Intel processors are much better than AMD processors. However, that doesn't mean you should choose Intel. For those switching from AMD to Intel, you can see that there aren't many changes when it comes to gaming performance levels.
AMD is known to be sufficient when it comes to gaming. But, if you switch to Intel, it gives you a different experience, even if the performance level doesn't change much.
Integrated Graphics: If you are looking to buy an expensive and committed graphics card, Intel is the best option for you. Even though Intel's video processor is not developed for intense gaming, it proves to be powerful when it comes to comparing the fused graphics of the former. Also, they are far more capable when it comes to operating advanced games at lower settings.
Power Consumption: Compared to AMD, Intel processors use less power. This enables you to buy the PSU on the same reliability note as AMD and thus gives you a worthwhile investment.
Price: Traditionally, AMD processors are much more expensive than Intel but these days the difference is slowly widening.
5]. Keyboard
We think a traditional keyboard is really important compared to a reliable layout. You can always get used to the layout. Sticky keys though? Never in a hundred years.
Most of the best laptops these days bring you good keyboards, but we highly recommend Lenovo ThinkPads to any writer because they're built to provide a smooth typing experience. We're not saying companies like Sony or HP are inferior, but Lenovo's island keys are designed to give you comfort.
To conduct long typing sessions, you may need to buy a laptop that has a pleasant and user-friendly keyboard. Still, no one wants a keyboard that has a lot of keys. As mentioned, this can lead to a poor user experience, especially when searching for key features such as the delete or arrow keys.
Furthermore, users wish for a keyboard that has a reliable and comfortable setting with full-sized keys and ample area around the arrow keys. Also, there should be an immediate response of the keys (as soon as you let go) as soon as you start to type, and there should be enough travel on the downstroke.
Always make sure the keyboard is backlit so that it becomes easier to type with a clear view of the keys in low light conditions.
Concerning constraints, laptop keyboards seem to be restricted when fixed inside a composite laptop structure. But again, they are designed to be more different from desktop models.
For example, you may notice that numeric keypads are only found on larger laptops, and that too is only on some models. Not all laptops have them.
In addition, countless laptops have small backslash or arrow keys that are located on the right side of the keypad instead of the usual left. Interestingly, only a few laptops have Page Up and Page Down, Home, and End keys. If no physical key is available for such operations, you may ideally need to use the Function (Fn) key combination.
If you rely only on these keys to surf around a text document, try searching for a laptop where all of these functions are being replicated by discrete physical keys.
Regardless, both a perfect keyboard and touchpad are hard to measure because it's all about personal interest. That's why we think you should try your new potential laptop's keyboard and touchpad to determine if they're comfortable to use.
As you begin to judge, start by considering how convenient the touchpad area is. It may help you to park your palms on the palm rest. Also, look for a textured touchpad finish. In the end, user experience is a huge element, especially when it comes to typing for long periods.
Lastly, as mentioned earlier, when choosing the best laptop and laptop brand, try to test the keyboard and check if it is convenient for you. This will mean making sure that you are okay with key placement, keyboard responsiveness, and overall ergonomic feel when it comes to the experience.
6]. Display Specs
If you're interested in getting an FHD display, you'll have a 15-inch laptop. There are other smaller options as well that offer FHD displays on a smaller scale. However, a large number of pixels can only be found in a large-sized panel.
If you want an FHD display for video editing, you should consider buying a bigger laptop for the reasons mentioned above; Having a physically large screen to view with good graphics.
Also, are you willing to use a discrete USB-C port or other items like SD cards, HDMI, Ethernet, and other USB ports? If yes, then you should pique your interest towards the best 15-inch laptop as you can get the right deal.
Also, if your laptop is your only device/PC and wants to use it at home, try to find a spacious notebook as this will give you a better chance of not needing an external dock.
So we can generalize that larger laptops (15 inches) are not portable and are suitable for people who consume high-resolution activities like video editing. Smaller laptops (13 inches) are for those who travel frequently and take their laptops with them.
Ultimately, the goal is to please you with the best possible laptop package. It's not at all necessary to have a big screen, powerful GPU, myriad ports, or even a 4K display, especially if you're not comfortable with a large laptop. If that's the case, we only recommend the 13-inch, but again, that's up to you.
7]. Battery Backup
Another very important aspect of a portable computer that you need to target once is that it has reasonable battery life. Today, with such rapid advances in technology, we have devices that will choose some days when not to recharge.
For any purpose, in particular, this facility can impact life-savers as they usually have to work late or have to stay back at their multiple establishments to complete project work.
In such scenarios, it is consistently ideal, especially when it involves the simplest laptops for students, to own a device that does not depend on you, no matter what proportion you use on peak days. Use.
Once you have a device like this, you won't have any trouble finding a charger and can be extra focused on your work or multiple areas of continuous study. As per the consulting specifications,
Your laptop personal computer should work for at least eight hours without recharge. If you are unable to shop for a portable computer that outputs that much, confirm that it can output at least vi hours at a stretch and no less.
8]. Storage
If you're a user who prioritizes performance and battery life, an SSD is an essential aspect of your potential laptop. If you don't have an SSD, buy a medium with the storage capacity that's right for you.
Also, don't buy high HDD storage though. In general, cost-per-GB is expensive when it comes to getting a manufacturing upgrade, making it cheaper for you to buy a portable HDD.
9]. RAM
In the former, users rarely require more than 4GB of RAM and even more when it comes to optimizing the best out of the system.
However, for the time being, you can consider 8GB as the minimum figure. If your work consumes a lot of power, then 16GB is the right choice. Also, gamers are more comfortable with 32GB of RAM to get the best gaming laptop experience.
Most of the RAM allows more applications to operate simultaneously and even more data to be accessed at once. This is beneficial when you do activities like editing video content or photos.
When it comes to choosing the right RAM for your brand-new laptop, the rule of thumb is to decide whether the RAM has enough memory and check the software requirements to run it.
In addition, consider each application in the OS and system you wish to operate so that you can evaluate both the minimum and the suggested essentials. We think the following RAM ranges give an idea of ​​how a system works with multiple memory amounts:
Minimum = 4GB
optimum = 8GB
Best => 8GB
The arrays described above provide a generalization that is based entirely on common computing activities. However, it is still worth checking the software requirements for anyone who wants to make the final decision.
This is not accurate for all computer activities as some operating systems use more memory than others. Most laptops employ integrated graphics controllers. Furthermore, they use up a fraction of the entire system's RAM for smooth graphics.
It can reduce the amount of system RAM from 64MB to 1GB but varies on the graphics controller. If the system uses an integrated graphics controller, it is perfect to get at least 4GB of memory so that it can reduce the impact of graphics as it uses up system memory.
A. Memory Type
Currently, almost every new laptop on the market so far uses DDR3 memory. In addition, DDR4 is also integrated into some desktop systems, but they are still rare and not found in most PCs and laptops.
Apart from the memory type being installed in the laptop, memory speed makes a big difference when it comes to performance. As you begin comparing laptops, be sure to analyze both of these important information bits to find out how they can affect performance.
We can specify the memory speed in two ways. The first method denotes the memory type along with its clock rating, i.e. DDR3 1333MHz. The second method is by mentioning the type and bandwidth. For example, the same DDR3 1333MHz memory can be mentioned with the PC3-10600 memory. Right below, you can see a list of memory types from fastest to slowest for DDR3 along with the latest DDR4 formats:
DDR4 3200 / PC4-25600
DDR4 2666 / PC4-21300
DDR4 2133 / PC4-17000
DDR3 1600 / PC3-12800
DDR3 1333 / PC3-10600
DDR3 1066 / PC3-8500
DDR3 800 / PC3-6400
Identifying clock speed or bandwidth can be quite intuitive if memory appears to be written by one value of another. Simply put, if you have a bandwidth value, just divide that value by 8. If you have a clock speed figure, all you need to do is multiply by 8. You just need to take care because numbers are sometimes rounded, therefore, they are not always the same.
B. Memory Limits
Typically, laptops have two slots available for multiple memory modules, compared to desktop systems with four or more. This would mean that they are primarily restricted in the amount of memory that can only be installed.
As DDR3 merges with modern memory module technologies, this limit is usually reduced to a maximum of 16GB of RAM in a laptop, of which 8GB is divided by modules (if the laptop can support them).
8GB is the standard limit these days. In addition, many ultraportable systems are kept with the same memory size and are permanent.
So what appears to be essential when it comes to choosing the best laptop memory?
Initially, try to find the maximum memory amount. This is usually listed by most manufacturers. It will help you to know what capable upgrades are available for the system.
Secondly, try to determine the memory configuration process when you start purchasing the system. For example, a laptop with 4GB of memory can be configured as a 2GB module or a discrete 4GB module.
On a similar note, a single memory module enables a better upgrade prospect because by including a separate module, you get more memory without compromising on any of the memory currently in use.
On the other hand, raising the status of two modules with a 4GB upgrade can cause the system to lose a 2GB module despite having a total memory of 6 GB. However, the drawback is that there are only a few systems.
Conclusion:  I hope you got clarity about how to pick the Best laptop in 2023 from today's laptop buying guide 2023 post, Therefore share maximum with your friends and family.
And don't forget to follow us on Instagram Bangalore Today
Thank you