Due to extremely heavy rainfall in Bengaluru, life has become difficult in many areas, till now death toll reached 5 in the last 2 days,
According to the Meteorological Department (IMD), there is a chance of sunshine at times in the morning, followed by cloudy conditions. Heavy rain is forecasted for the evening, So stay alert and follow the safety procedures.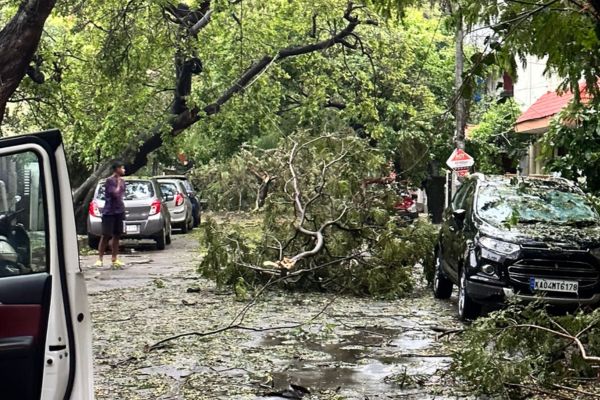 Image: Twitter
Highlights: In the Malleshwaram area of Bengaluru, water entered a jewelry shop, resulting in Rs 2 Cr worth of pieces of jewelry being washed away. Due to the fear of electric short circuits, the owner and staff decided to stay away from the affected area.
In the BTM Layout region of Bengaluru, the road has collapsed to a depth of approximately 4 feet due to the heavy rainfall. As a result, road transportation in the area is currently highly risky.
Also read, Wondela ticket price
Recent Updates; 
The rain majorly impacted the Bommanahalli, Anugraha Layout, Chikkanahalli the areas of Bengaluru, and 30 mins rainfall makes big trouble to the Bommanahalli people.
Apart from Bengaluru, one person each died in Karnataka's Haveri and Bellary due to the heavy rains,
The vehicle became stuck in a flood caused by heavy rain in the Karnataka region, resulting in water entering the residential house. These circumstances occurred due to the summer rainfall.
Bangalore is experiencing heavy rainfall and facing uncertain conditions in several major areas, including Majestic, KR Market, Shantinagar, Jayanagar, Vijayanagar, Banashankari, Hebbal, RR Nagar, Mathikere, Chandra Layout, Nandini Layout, Mahalakshmi Layout, Jalahalli, Yeshwantpur, and various other regions of Bengaluru.
On Tuesday, Karnataka Chief Minister Siddaramaiah issued a directive to the Bengaluru police, instructing them to restrict traffic flow in underpasses during heavy rainfall. This directive comes in response to the recent incident of a woman's death at a waterlogged underpass in Bengaluru.
According to a report by Deccan Herald, family members of a 23-year-old software engineer, who lost her life when the MUV she was traveling in got submerged in the flooded KR Circle underpass, have filed complaints against BBMP.
Follow us on Instagram for more updates Bangalore Today