Snow City Bangalore Ticket Price: If you are planning to spend time with your family especially at an amusement park during weekends and holidays, I am sure you will think of going to Snow City Amusement Park Bangalore at least once.
Because it is one of the most popular amusement parks in Bangalore, Snow City Amusement Park has a huge positive response from visitors and works to enhance people's experience.
And, Snow City Bangalore is an amazing man-made ice and snow-themed indoor amusement park featuring 7+ different types of 50+ gaming, which offers unlimited fun and makes your holidays more fun and filled with joy.
Snow City Bangalore:
You don't have to go anywhere outside India to experience snow and torrential weather, a visit to Snow City Bangalore is enough to experience the cold weather and snowfall here.
Because, here you can find various games in the snow park models like snow slides, real snowfall, snow dance floor, snow mountain climbing, snow hiking, and cafes are the most popular things that you can enjoy in the amusement park.
It is a wonderful amusement park that opened in the year 2012 and is spread over 12000 sq. ft. It is located in the heart of the city, and the correct address of the amusement is J.C. Nagar, Bangalore, Karnataka 560006.
What exactly is Snow City Bangalore?
Snow City is an indoor snow theme park located in Bangalore, India. It includes snow slides, avalanches, and a snow-play area
It is a popular destination for families and tourists as it offers a range of themed attractions that offer an artificial winter experience.
Snow City offers a unique and exciting experience to people who want to enjoy the thrill of winter activities without having to travel to colder climates.
Additionally, the park is open year-round and offers controlled temperature and snowmaking technology, so visitors can enjoy the winter wonderland experience in the weather outside.
Snow City Bangalore Ticket Price 2023
| | | |
| --- | --- | --- |
| Type of Game | Ticket Price (Weekdays) | Ticket Price (Weekend) |
| Snow Park | ₹ 550 | ₹ 650 |
| Eyelusion | ₹ 200 | ₹ 250 |
| Madlabs | ₹ 400 | ₹ 400 |
| AR Zoo | ₹ 100 | ₹ 100 |
| 9D Cinema | ₹ 120 | ₹ 120 |
| Arcade Games | ₹ 250 | ₹ 300 |
Other fees
The cost of Camera usage will be Rs 50/-.
If you need a locker, the cost is Rs 50/-.
Various snow games in the park: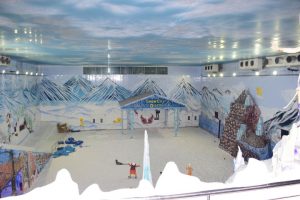 There are many interesting and entertaining games available to make your day more meaningful with your friends or family or loved ones, let's explore them all one by one.
Snow slides: The most popular snow game among all snow games is Snow Slides, which gives you the powerful real experience of riding in an avalanche and the thrill of the slopes as you slide down exhilarating snow slides on mats.
Real Snowfall: The main reason you visit this snow city is to enjoy artificial snowfall, but you can also experience natural snowfall in this park, You forget the outside world for a moment and feel the snowy atmosphere as soft flakes of snow start falling on you.
Snow Dance Floor: Glide across the dance floor with your snow boots and groovy lighting, amazing dance numbers, and chilly sub-zero temperatures.
Snow Mountain Climbing: Have you been dreaming of trekking for a long time, Snow Mountain Climbing is here to partially fulfill your mountaineering desire, Experience snow mountaineering firsthand here. From the top of the mountain, you get a bird's eye view of the entire snow village. It's totally worth it.
Snow Hiking: You can enjoy the hiking experience here with friends. Make your way to the top and be the last to have a cup of hot cocoa for everyone.
Cafe: In the snowy village, you should come down to this room to relax and have some hot chocolate or drink of your choice, and tea and coffee are also available here.
Other Games:
1]. Eyelusion: Discover some amazing, unique visual illusions perfect for the whole family. Illusion brings illusions and AR experiences. Take a picture of you, your friend, and your family at the most enjoyable place in Bangalore.
2]. Madlabs: Fun meets science learning at MadLabs. Created especially for children, but adults will be able to do some hands-on science right here, this hall encourages visitors to touch and explore and feel the models so that they can understand the science behind the experiments.
3]. AR Zoo: Another unique game of this amusement is AR ZOO Augmented Reality 3D works with a computer vision-based technology application that allows users to superimpose images in the real world. Thanks to the augmented reality app, we can create amazing content that will give you the illusion of zoo animals!
4]. 9D Cinema: A9D is a new technology in the world. Like our 9D Virtual Reality, viewers just need to put on the 9D glasses and then jump into the world of movies. It breaks the boundary between the virtual and real world and gives the viewers an amazing experience.
It includes three revolutionary new products: an interactive cinema with a rotation function, immersive glasses, and a breakthrough VR entertainment content platform.
Suggested reading, Wonderla Bangalore
Snow City Bangalore

Timings:
Park Timings: 10:15 am to 8:00 pm | Every day
Session Timings: 10:15 am to 11:00 am; 11:15 am to 12:00 pm; 12:15 pm to 1:00 pm; 1:15 pm to 2:00 pm; 2:15 pm to 3:00 pm; 3:15 pm to 4:00 pm; 4:15 pm to 5:00 pm; 5:15 pm to 6:00 pm; 6:15 pm to 7:00 pm; 7:15 pm to 8:00 pm
Duration of Sessions: 45 minutes
Snow City Terms and Conditions: 
1]. Dress Code:  It is essential to wear the prescribed clothing to enter the snow area, jackets, gloves, and snow boots are provided free of charge on a returnable basis. It is mandatory to carry socks from outside otherwise you have to buy them from the counter at Snow City Bangalore reception.
2]. Park Check-in: People can access it individually or in combination, The Snow City entry ticket only covers the cost of the snow area, but not the other attractions outside (1st and 2nd floors). Separate tickets are sold for games on floors I and II.
3]. Caution: For your health well-being and comfort, it is advised not to enter the snow room in case of any of the following health conditions: pregnancy or suffering from any medical problems incidental to heat, cold, or allergies, feeling sick and feverish.
4]. Deposit Locker: Limited safe deposit lockers Guests may obtain lockers to keep their belongings upon payment of a non-refundable rental fee.
Others
Management shall be liable for any such loss.
Children under 76 cm (2.5 ft) tall are entitled to free entry to Snow City at their own risk.
Tickets once purchased cannot be canceled or refunded.
Know all terms and conditions from their official page Click here
Snow City Bangalore images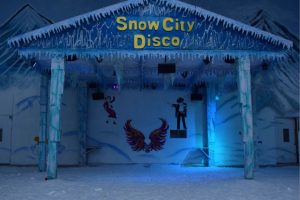 Snow City Bangalore related Faq's 
1]. What is the cost of Snow City in Bangalore, or How much is a ticket to Snow City?
Entry Fee: 550/- weekdays and 650/- weekends (includes entry fee, activities, and winter gear) Wearing socks is mandatory.
2]. How long can we stay in Snow City?
According to the terms and conditions of snow city management teams, you can spend around 45 minutes.
Children under 76 cm (2.5 ft) in height are entitled to free entry to Snow City at their own risk.
4]. Can you take photos in Snow City?
Yes, The cost of Camera usage will be Rs 50/-.
5]. Is phone allowed in Snow City?
No, Only cameras are allowed inside Snow City, however, cameras are allowed on payment of prescribed charges.
Final Words: I hope you might like this article regarding the Snow City Bangalore, Therefore don't forget to show your support by sharing this article with your friends and family…
And don't forget to follow us on Instagram Bangalore Today
Thank you.