Wonderla Amusement Park Bangalore has several exciting games like dry and water games and Wonderla Bangalore Timings are 11:00 AM to 06:00 PM on normal weekdays, and 11: AM to 07:00 PM on weekends and holidays.
In this post, I am going to give you complete information about Wonderla Amusement Park Bangalore's entry timing schedule including entry and exit timings during normal days and weekends.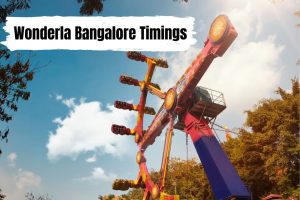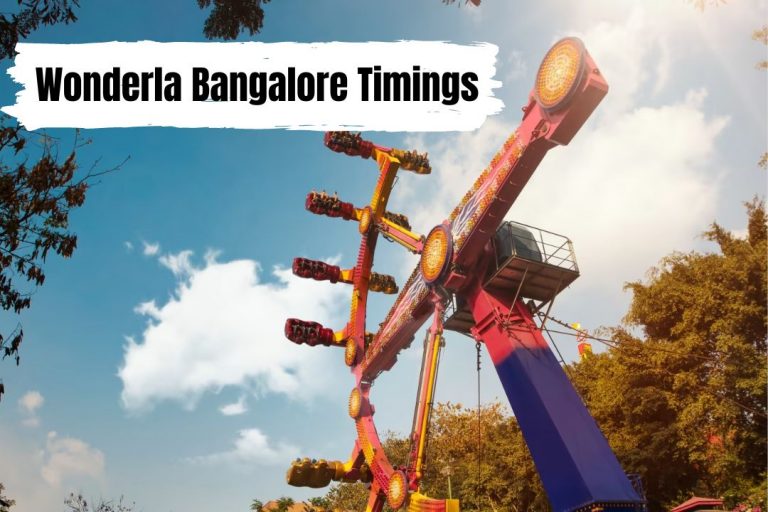 Wonderla Bangalore Timings 2023
Wonderla Bangalore Timings – Weekdays
Park  Timings
11:00 AM – 06:00 PM
Water Park Timings
12:30 PM – 05: 00 PM
Wonderla Bangalore Timings – Weekends & Holidays
Park  Timings
11:00 AM – 07:00 PM
Water Park Timings
12:00 PM – 06: 00 PM
Also Checkout, What's the Ticket price of Wonderla Bangalore
Wonderla Amusement Park Bangalore:
Wonderla Bangalore, located on the outskirts of the city on the Mysore road, is considered the best amusement park in Bangalore and one of the top parks in the country.
With over 60 rides, it offers an exhilarating experience to visitors of all ages. Known for its high-thrill dry rides, Wonderla also provides a variety of relaxed and fun rides, ensuring there is something for everyone.
One of the main highlights of Wonderla Bangalore is its collection of high-thrill rides, which are the talk of the park. The park is home to India's first "reverse looping roller coaster," a unique coaster that takes you in both forward and backward directions.
This roller coaster adds to the excitement and adrenaline rush that Wonderla is known for. Additionally, the water park at Wonderla offers a fantastic selection of slides, ranging from thrilling to leisurely, providing a refreshing experience for visitors.
Wonderla Holidays Limited, the operator of Wonderla Bangalore, is the leading amusement park operator in India. It is promoted by Arun K. Chittilappilly and Kochouseph Chittilappilly and currently owns and operates three amusement parks in Kochi, Bangalore, and Hyderabad, as well as a resort in Bangalore.
Wonderla Kochi has been thrilling visitors with its 56 rides since 2000, Wonderla Bangalore spans over 82 acres and offers 61 rides, while Wonderla Hyderabad, the newest addition to the portfolio, offers 43 attractions spread over 50 acres.
Wonderla Amusement Park has consistently been ranked as the number one amusement park in India and the sixth-best in Asia by TripAdvisor for five consecutive years.
For those seeking a complete amusement park experience, Wonderla Bangalore is the perfect destination. It combines thrilling rides, wave pools, and a touch of nostalgia, offering an entire day of excitement and entertainment.
If you have fond memories of visiting amusement parks during your childhood, Wonderla Bangalore will provide a much-needed reunion with your extended family or old-school friends.
The park offers a wide range of attractions, including high-thrill rides, haunted houses, and exciting water rides. If you wish to explore the extensive park beyond a single day, Wonderla Resort Bangalore provides an option for an extended stay.
The resort, located beside the amusement park, features 84 luxury rooms equipped with amenities such as banquet halls, a multi-cuisine restaurant, a rest-o-bar, and recreational facilities like a heated swimming pool, a kid's activity center, and a fully equipped gym.
A visit to Wonderla Bangalore promises an unforgettable experience, with its thrilling rides, water park adventures, and a chance to create lasting memories with loved ones. Whether you are a resident or a visitor to Bangalore, Wonderla offers a day filled with excitement, laughter, and fun.
FAQ's
1]. What is the time of Wonderla Bangalore?
Wonderla Bangalore Timings from 11:00 AM to 06:00 PM on normal weekdays, while on weekends and holidays, the park extends its hours and remains open from 11:00 AM to 07:00 PM.
2]. Which place is Wonderla situated?
Wonderla Bangalore is located on Bengaluru – Mysore Road, just 28 kilometers from the city center of Bengaluru, Karnataka, India. The address is 28th km, Mysore Rd, Bengaluru, Karnataka 562109.
Final Words;
I hope You find this article about "Wonderla Bangalore Timings" useful therefore show your support by sharing this amazing article with your friends and family, and don't forget to follow us on Instagram 
Bangalore Today
Thank you.