Acer Extensa 15 Review 2022: Acer Extensa 15 Lightweight Laptop is the device that I will be reviewing in this session and includes a detailed review of all the features, pros, and cons of this machine at the end of this the verdict section mentions whether you should buy it or not.
It is based on the Core i5 11th Gen Intel processor and is a tall hinge design device with several exciting features like an FHD display, up to 8 hours of battery life, Wi-Fi 5 (802.11ac) wireless antenna, and MU-MIMO.
Review:
The Acer Extensa 15 (i5) is a solid productivity laptop that offers powerful processing power, and a Windows 11 machine that's always ready to use, plus it's thinner and lighter than ever, so the Acer Extensa 15 is exactly right for students, and working professionals.
Depending on your needs you can choose a laptop among 10 different combination-based laptops of the same model, The Acer Extensa 15 laptop is the perfect budget laptop for fast and easy computing for students and working professionals, offering decent performance, extreme portability, and good looks.
Design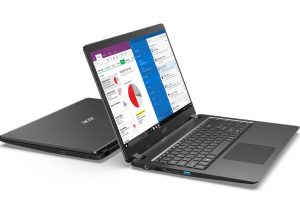 The Acer Extensa 15 looks and feels like a personal use laptop, which surprises me a bit, given that this lightweight Acer-made laptop weighs just 1.7 kg, making it easy to carry around. Given its entry-level nature, customers who buy one can imagine using it for anything other than school or office. They may be doing some photo or video editing or more.
The new Acer Extensa 15 is still made of black plastic, the Acer brand logo is placed in the middle of the device on the back of the display and it looks decent.
The Acer Extensa 15 is unique from the brand as the elegant chassis has been redesigned to be thinner and lighter than ever at less than 20mm thin.
Display
Part of the Acer Extensa 15's top-notch design is its nearly FHD display for entry-level users, which has a streamlined look that's pretty minimal. The bezels are tiny, making this 15.6-inch display look as large as possible in a compact form factor.
Performance & Productivity
I've been using the Acer Extensa 15 for about a week now, and I have a few thoughts, The review unit is equipped with a redeemed i5 CPU, 8 GB of RAM, and 512 GB of PCIe solid-state drive storage.
It has a 15.6-inch touchscreen, a one-year manufacturer's warranty, and Windows 11. And the laptop comes with free Microsoft Word, and Excel for life, The device also features a strategically placed Wi-Fi 5 (802.11ac) wireless antenna and a stable wireless signal with MU-MIMO. It also offers 8 hours of battery life, now that the spec sheet is over, let's check out the experience.
I have already told you that this is an entry-level laptop that offers overall good performance with browsing and MS Office and Excel sheets and I have experienced Windows 11 OS on this laptop which is quite useful.
And the 512Gb SSD storage and Core i5 Intel processor boost my work duration with it, on various demands like video editing in Filmora and Camtasia, it performs very decently on it and it offers good support with Photoshop software.
Operating system, RAM & Storage
The laptop comes with Windows 11 Home pre-installed and is great on this machine to do more productive tasks and it adds a level of enthusiasm for the device more time.
Additionally, 8 GB of integrated RAM along with 4 GB of onboard DDR4 system memory, with 4 GB of system memory and 512 GB SSD helps you store and share important projects with ease and you are able to multitask with ease,
Both the SSD storage and 8GB RAM help you while performing heavy multi-tasking, and you get regular updates in the operating system and you can expand RAM and storage as per your needs.
CPU
Powered by Intel, the Core i5-1135G7 processor is a typical 2020 mid-range laptop processor. With its 4 computing cores, the i5-1135G7 is more powerful than the dual-core i3-1115G4 from the same 11th gen Core G-series, With the help of this Intel's mid-range processor, you can easily access the laptop and turn it on within seconds.
Is the Core i5-1135G7 good for programming? i5 are ideal for programming because they are robust, sturdy, and have good processing capabilities. They are ideal for coding and you can deploy them for gaming and business productivity tasks. These are high-end processors that can make any computer efficient and fast.
GPU
Intel Iris Xe Graphics is an entry-level GPU, which is still good and able to handle graphical task areas and high-end gaming, moreover, it supports graphics up to 8K HDR with 4x4K HDR, but somehow it is a mid-range GPU compared to Nvidia GPU's.
This Intel Iris Xe Graphics is specially made for those who are looking for a laptop that is lightweight and still supports par time gaming and graphical content, so you can go with it.
Keyboard & TrackPad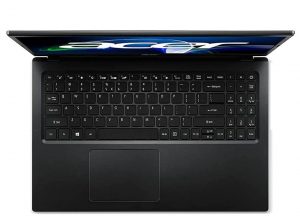 The keyboard is an input device that is mostly used to give commands to the device, this Acer Extensa 15 comes with a moisture-resistant keyboard, but not a backlit keyboard but still, you can do more productive things with it with the help of precision touchpad with a multi-gesture touchpad.
Audio & Webcam Quality
The Acer Extensa 15 laptop comes with quite decent audio quality speakers that allow you to listen to quality sound visuals and the Acer brand provides a built-in webcam for online video calls.
Battery and Charging
Having a good battery backup for a laptop is very essential these days, you are a student or a business professional and you are traveling around and at that time you are not able to find charging ports all the time, so choose a good battery-based laptop and as such Acer Extensa 15 provides 8-hour battery backup with average charging speed.
Compatible with
Acer Extensa 15 is primarily a personal use laptop, if you are a student or business professional and looking for a laptop for browsing and light work use, then this is definitely made for you.
And additionally, you can easily use this device for travel purposes, as it comes with 8 hours of battery backup and a 15.6-inch mid-sized display.
Benchmark
Display response times in our tests combined around 21 ms rise and fall, and the screen shows good response rates in our tests, but may be too slow for gamers and heavy graphical tasks.
In comparison, all tested devices range from 0.4 (minimum) to 240 (maximum) ms. » 35 % All devices are good, This means that the measured response time is similar to the average of all tested devices (22.7 ms).
Test conditions
We used the "Balanced" power profile in Windows because no other power modes were available. CPU power limits in this mode are 28 W (PL1) and 64 W (PL2).
Processor
The Core i5-1135G7 quad-core processor (Tiger Lake) operates at a base clock of 2.4 GHz. An increase to 3.8 GHz (all cores) or 4.2 GHz (one core) is possible via Turbo Boost, and hyperthreading (two threads per core) is also supported. Cinebench R15 tests run at 3.4 to 3.8 GHz (multi-threaded), or 2 to 4.2 GHz (single-threaded). Clock rates are significantly lower in battery mode.
We check if the CPU boost is permanently used while running on DC power operation by running the Cinebench R15 benchmark's looped multi-thread test for at least 30 minutes. Three of the four CPU cores operate with average values around the base clock. The fourth core operates continuously at the boost frequency.
Reference: Notebookcheck.net
Also suggested reading, Honor MagicBook Review
Heating
This 15.6-inch laptop does not overheat. Temperatures above 40 degrees Celsius were registered at two measuring points during the stress test. In daily use (office, internet), the temperature is in the green zone. CPU temperature does not indicate any cause for concern.
At the start of the stress test (Prime95 and Furmark run for at least an hour), the CPU operates with a 3.1 to 3.5 GHz clock. Furthermore, clocks drop between 1.4 and 2.1 GHz. The graphics core is clocked between 1,100 and 1,300 MHz.
Of note, our stress test represents an extreme scenario. We use this to check if the system works stably under full load.
Pros and Drawbacks
After a week of using this decent laptop from Acer, I noticed some great things and also some flaws, let's go through them one by one.
Pros
Performance in daily use was very good.
Amazing combination of 512GB SSD and Windows 11.
Drawbacks
A backlit keyboard does not exist
No pre-installed software
Faq's 
1]. Is Acer Extensa 15 RAM upgradable?
Yes, you can upgrade it up to a maximum of 20GB to allow expanding the RAM capacity and it is enough to fulfill any useful purpose.
2]. Which is better Acer Aspire or Acer Extensa?
The question is quite valid, but the answer is that both are good by their standards, Acer Aspire is such a decent and reliable device that comes with a powerful CPU and a good GPU.
And the Acer Extensa is a lightweight laptop with an 8-hour battery backup that lets you get away from the stress of always charging…
And finally, both devices come from the same brand and have their own usage perspective, and are also made for unique usage purposes.
3]. What is the standard warranty for this product? what version of ms office will be loaded in it?
Standard 1 Year warranty. No MS office was there at least when you purchased it, So you have to install it.
Verdict: Finally, I would like to share a few words on this Acer Extensa 15, which was, first of all, a good laptop, which allows the user to perform well in the use of studying or browsing and any related fields.
Moreover, I felt it offered average performance with gaming uses and graphical area, It's a convertible 2-1 device that you can easily access for daily tasks or for study and office use… so consider it according to your needs.
I hope you might like this article regarding the Acer Extensa 15 review, Therefore don't forget to show your support by sharing this article with your friends and family…
And don't forget to follow us on Instagram Bangalore Today
Thank you