Adiyogi Bangalore Shiva Statue is India's 2nd 112 Feet Adiyogi statue located in Chikkaballapur near Bangalore, It has been built by Isha Foundation with the aim of building a Shiva statue in the 4 corners of India Isha Foundation welcomes everyone to take advantage of this space regardless of caste, creed, or creed.
In fact, this 112 feet Adiyogi Shiva statue is located on the edge of the forest in Chikkaballapur near Bangalore the 1st Adiyogi Shiva statue was built by Isha Foundation in Coimbatore, and the first Adiyogi Shiva Statue was inaugurated on 24 February 2017 by the Indian Prime Minister Narendra Modi, on the occasion of Maha Shivaratri.
And it is now the 2nd 112 feet Adiyogi statue in India inaugurated on January 15, 2023, at Chikkaballapur near Bangalore.
Adiyogi Bangalore: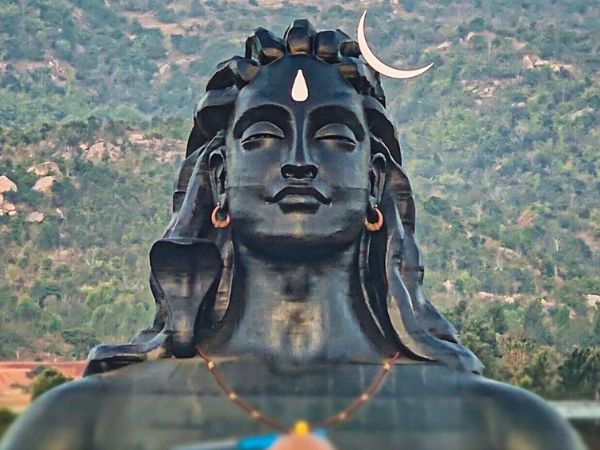 This Adiyogi Bangalore Shiva statue is located exactly 10 km near Chikkaballapur and it is formed here in the environmental atmosphere, and It's India's 2nd Adiyogi statue built by Isha Foundation mainly provides Yoga and Meditation training for Indians and also for foreigners as well.
Divine glory: The Adiyogi Shiva Statue in Bangalore
This is the 2nd 112 feet Adiyogi Shiva statue designed by Sadhguru Jaggi Vasudev, founder and head of Isha Foundation and he started building statues with a dream to cover all 4 corners of India by building the Adiyogi statue.
And finally, this year on January 15, 2023, Isha Foundation inaugurated this unique 112 feet statue and the glorious face of Adiyogi stands 112 feet tall, representing the 112 paths given by him to attain well-being and one's ultimate form.
Karnataka Chief Minister Basavaraja Bommai was invited by Isha Foundation to inaugurate this statue of Adiyogi weighing around 500 tonnes.
Suggest reading, Wonderla Bangalore Timings
Adiyogi Bangalore Timings
Adiyogi Bangalore is open from 6 am to 8 pm on both weekdays and weekends. Visitors have the opportunity to participate in various offerings and processes offered at the Yogeshwara Linga and Naga Temple. Additionally, they can experience the Adiyogi Divya Darshan every evening.
Adiyogi Bangalore Parking
The parking area is spread over 20+ acres, so it is a convenient parking area for all two-wheelers and buses and there is no charge for their parking and no need to worry about parking matters.
Adiyogi Chikkaballapura, Bangalore  Map
Adiyogi Shiva Statue is located at Chikkaballapur, Bangalore – 562101 and you can reach within 2 hours by bus, or by car it takes around 1 hour to cover the distance of 70 km from Adiyogi Shiva Statue to Bangalore.
Facts about Adiyogi Shiv Statue Bangalore
The Adiyogi statue is located in Chikkaballapura, Bangalore, India.
It is a steel statue of Shiva with Thirunamam.
The statue is 34 meters tall, 45 meters long, and 25 meters wide.
It is a replica of the Coimbatore statue and holds the Guinness World Record for "Largest Bust Sculpture" in the world.
The statue was designed by Sadhguru Jaggi Vasudev, the founder, and head of the Isha Foundation.
It weighs approximately 500 tonnes (490 long tons; 550 short tons).
Adiyogi is a term used to refer to Shiva (Shankara) as the first yogi.
The purpose of the statue is to inspire people toward inner well-being through yoga.
The statue is a symbol of the yogic sciences and represents the importance of yoga in human life.
The Adiyogi statue attracts thousands of visitors who come to witness its grandeur and learn about yogic traditions.
The statue serves as a reminder of the ancient wisdom and teachings of yoga, promoting spiritual growth and well-being.
The Isha Foundation, headed by Sadhguru Jaggi Vasudev, is actively involved in promoting yoga, meditation, and spiritual practices around the world.
The Adiyogi statue stands as a landmark and a significant cultural and spiritual attraction in Karnataka.
Constructed by Isha Foundation;
This Adiyogi Shiva is built by Sadhguru through the Isha Foundation, the cost of construction of this Shiva idols and yoga center is not disclosed yet, as per our report this center is spread over 30+ acres near the forest area.
Things to do in Adiyogi Yoga Center Chikkaballapur, Bangalore
During the daytime, you can explore the beauty of this 112 feet Shiva statue This Isha Foundation is established as a yoga and meditation center, and hence anyone can stay there through an easy online registration process.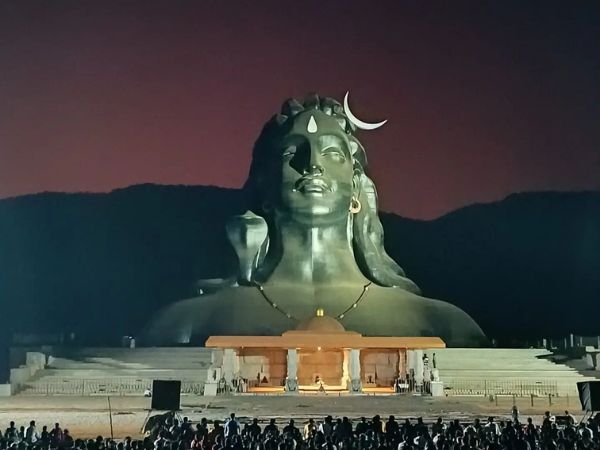 Additionally, here are some more things you can explore easily as follows,
1]. Adiyogi Divya Darshanam;
First, during the evening, the events will begin with a 14-minute video imaging exhibition on Adiyogi by Isha Foundation,
And this video will reflect Adiyogi's contribution to humanity. This visual treat is accompanied by Adiyogi's narration in Sadhguru's voice. It runs daily at 7 PM.
2]. Yoga Sandhya
Yoga Sandhya is a powerful 30-minute meditation process to enhance and deepen your connection with the Yogeshwar Linga. Yoga Sandhya helps establish a deep personal connection with the Yogeshwar Linga, energizes your energy, and helps guide life's situations gracefully.
3]. Jala Offering
As a way to receive the energy of the Yogeshwar Linga, as Hinduism believes that water is precious, devotees can offer water and neem leaves to the Linga with their hands.
4]. Dosha Nivarana Arpane
In this dosha Nivarana Arpane – devotees can offer flowers and neem leaves and apply red mud on the Naga for one's well-being.
5]. Dhoop Arpane
Dhupa (incense) offering is one of the Panchopachara pujas, meaning (worship with five offerings) one of the five upachara pujas in Hindu worship. Hence offering Dhupa (incense) to Naga for one's well-being
Others 
Naga Aarti, Naga Sthnana, and Sarpa Seva are other programs you can do at night.
Faq's
1]. Is there an Adi Yogi statue in Bangalore?
Yes, Recently on 15Th January 2023, Isha Foundation inaugurated India's 2nd 112 feet Adiyogi Statue in Chikkaballapur near Bangalore.
2]. What time is the Adiyogi light show in Bangalore?
A laser show called Adiyogi Divya Darshanam is held every evening at 7:30 PM.
3]. How to reach Adiyogi from Bangalore?
The best way to get to the Adiyogi Shiva statue near Chikkaballapur from Bangalore is by government bus, which takes 1 hr 30 min and costs ₹70. Alternatively, you can do it by car or by bike and takes 1 hour.
Final Words; I hope you found this article about "Adiyogi Bangalore" Useful therefore kindly share this with your friends and family, and don't forget to follow us on Instagram Bangalore Today
Thank you