Cubbon Park Bangalore is one of the most important natural spots in Bangalore, and more than 10 lakh people visit this park every year, making it a great place to enjoy the beauty of nature and other activities like yoga and exercise like morning walks. And Cubbon Park Bangalore timings are 06:00 AM to 06:00 PM on all days of the year.
Cubbon Park is a historical place built in 1864 and is one of the popular parks in Bangalore, since the last ten years Bangalore is known as Garden City because of the exciting nature spots like Lalbagh, Cubbon Park has emerged as a great place to forget the hectic life of Bangalore and spend time with family.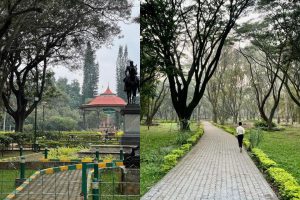 Image Credits: @manjusararajan/ Instagram
A densely green environment with soothing cool air and clean drinking water & necessities, so this Cubbon Park beckons the people of Bangalore city, in this Cubbon Park you can mainly enjoy such a wide range of plants and the elegance of its traffic.
This Cubbon Park has an area of about 250 acres and within it, there are more than 6000 types of plants including 68 species and 96 species which can be divided into one place. The official name of Cubbon Park is Sri Chamarajendra Park.
The administration and management of Cubbon Park not only plants but also many popular and famous ones
Statues of personalities have been installed, some of which are those of Mark Cubbon, K Seshadri Iyer, Queen Victoria, King Edward VII, and Sri Chamarajendra Wodeyar.
Apart from this, good road system for morning and evening walking in Pak, if you want to spend time with your family or group of friends in a natural place in Bangalore then Cubbon Park is a good choice because here you will get very cold air so that you can get peace of mind.
Cubbon Park Timings
Morning Opening Time: 06:00 AM
Evening Closing Time: 06:00 PM
Note: The park is open on all days except Monday and the second Tuesday of the month.
Cubbon Park Ticket Price
Free Entry – No fee is charged for entry
Cubbon Park Terms and Conditions – New Rules
The horticulture department has implemented a set of new rules in Cubbon Park based on complaints from park-goers about certain behaviors. The following guidelines are now in effect:
Eating within the park premises is strictly prohibited.
Visitors are not allowed to take photos or videos within the park.
Engaging in any form of sports activity is not permitted.
Climbing trees is strictly banned.
Couples are required to maintain a certain distance from each other, avoiding any public display of affection.
These rules have been put in place to ensure a serene and respectful atmosphere within the park, as reported by the Times of India.
Also, read,
Things to Do in Cubbon Park:
Known as the jungle of Bengaluru city, Cubbon Park is home to thousands of trees and fragrant flowers of various species that attract tourists to stay there for a long time. It is known as the lungs of Bangalore because the pollution like smoke from the traffic in the city is more likely to affect people's health, thus the sprawling nature spots in the city like Cubbon Park play a great role in maintaining the healthy balance in people's lives, as the trees absorb the polluted air and release pure oxygen.
Primarily it has become a home to hundreds of birds and there are many activities you can do from daily exercise morning and evening walks to weekend picnics with the family, so let's find out about the Things to Do in Cubbon Park below.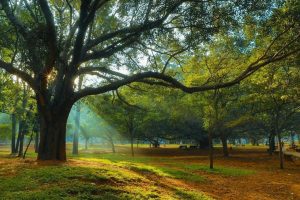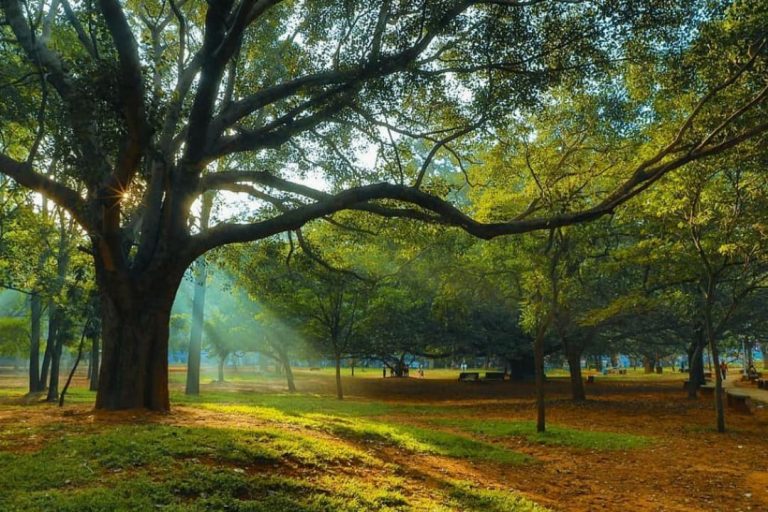 Image Credits: @whatsaroundbangalore/ Instagram
1]. Exploring Archaeological Museum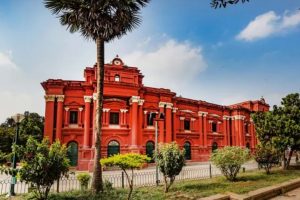 Bangalore Gourmet Museum is one of the oldest museums in the country and is easily accessible as it is located near Cubbon Park.
In this museum, you can see archeological objects like stone carvings, pottery, paintings, coins, and inscriptions which help to understand the history of India, so parents can show their children the history of India and royal families.
This museum houses a collection of Halmidi inscriptions such as the first inscription in Kannada and the Atakur inscription (949 AD) slabs, which are a major attraction in this museum.
Known as the Bangalore Gourmet Museum, the Venkatappa Art Gallery houses approximately over a hundred paintings including sculptures from the Hoysala, Nolamba, and Gandhara periods, as well as artifacts recovered during excavations at Chandravalli, Mohenjodaro, Hampi, and Halebidu.
Apart from this, terracotta artifacts from Mathura (Krishna's birthplace), are weapons used by warriors from Kodagu, Ancient Inscriptions including Beguru Inscription of 890 AD, Halmidi Inscription of 450 AD, Atkur Inscription of 949 AD, Early Musical Instruments, Tipu Sultan's Fort, Srirangapatna, etc. are here.
Timings: Government Museum, Bangalore is open on all days except Mondays from 10 am to 5 pm.
2]. Statues of famous people
While walking along with the fragrance of different types and species of flowers that are present in Cubbon Park, there are many statues built in memory of important people who are located in between, the statues here include Major General Sir Mark Cubbon, Rajya Dhurandhar, Queen Victoria, Sir K. Seshadri Iyer statue, and Chamarajendra Wodeyar.
Parents seeing these statues in good children and spending time near them will be good for your children's future because such statues built here are important people, so you need to show your children the value of life and the purpose of life by telling them about their life history and achievements.
3]. Enjoy the Toy Train Ride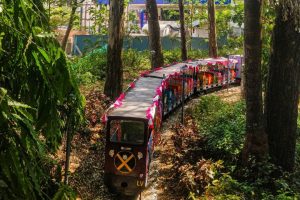 Another place where you and your kids can enjoy time together is the Putani Express or Toy Train Park, where you can spend hours walking in Cubbon Park and relax. Here adults are allowed to travel on the train for just 30 rupees and children for 10 rupees.
A train journey amidst natural surroundings is always exciting and it is a great journey to reminisce about your childhood days. Putani Express will help to make your weekend better so just don't forget to travel in it if you are in Cubbon Park.
4]. Visit The Cubbon Park Aquarium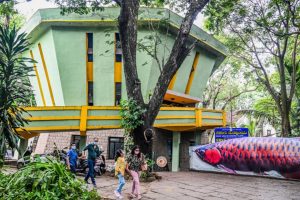 Image Credits: Deccan Herald
Another famous place in Cubbon Park is the aquarium which has an unmistakable collection of fish that attracts adults, this aquarium displays various species of domestic and foreign fish in an octagonal building, established in 1983, Bangalore Aquarium is the largest aquarium in Bangalore and the 2nd largest aquarium in India.
Bangalore Aquarium houses a total of 83 fish tanks, the building also houses the Aquarists Society of Karnataka, engaged in the sale of fish tanks, fish, and accessories. Here various programs are conducted on fish and training is given on how to nurture and handle fish.
5]. Enjoy the Dancing Music Fountain
Apart from the morning at Cubbon Park, you can have a great experience in the evening by sprinkling water to the beats of music and enthralling the visitors. The fountain is located on Raj Bhavan Road and the entire mechanism of its dancing is handled by binary operations.
After all, Bangalore is an IT city, so technology must bring some lively entertainment; right? If you have young children, this is undoubtedly one of the top things to do in Cubbon Park.
6]. Running and yoga sessions every Sunday
Besides exploring Cubbon Park on the weekend, If you want to maintain your physical health, join the Yoga & Running Station held every Sunday at Cubbon Park, and keep your health in balance by giving your lungs some fresh air.
There is no need to pay any fee to participate in this program and various organizations and people interested in yoga organize this program every Sunday. And you can even find some groups where you can exercise with no entry fee.
7]. Story Telling Event for Children
Nowadays kids like to spend more time on mobiles so instead you can shape your kid's lifestyles by engaging them in various activities. A storytelling session every weekend can have a life-shaping effect on your children.
So it can be said that sessions for kids are the most attractive and important event compared to all other group activities like projects in the garden, Puppets and Pearls is one of the most famous names in this regard. Take your kids to these sessions to improve their listening and comprehension skills. Such sessions improve their interpersonal skills.
How to Reach Cubbon Park Bangalore
Cubbon Park can be conveniently accessed from any part of Bangalore city via the Bangalore Metro (BMRCL), buses, or taxis, with the park located 3 km away from Majestic Bus Stand and 35 km away from Bangalore Airport. It is important to note that traffic restrictions may occasionally be in effect.
FAQ's
1]. Which days Cubbon Park is closed?
The park is open on all days except Monday and the second Tuesday of the month.
2]. What is the best time of day to visit Cubbon Park?
The best time to visit Cubbon Park is between September to February as per Bangalore weather conditions.
3]. How much time is required to see Cubbon Park?
It takes approximately at least 5 hours to savor the full splendor of Bangalore's Cubbon Park.
4]. What do people do in Cubbon Park?
You can do exercise, yoga, relaxation, and spend time with family and other activities here.
5]. Can we eat food in Cubbon Park?
No, Food is not allowed.
Final Words;
I hope You find this article about "Cubbon Park Bangalore Timings, Ticket price, New Rules and more " useful therefore show your support by sharing this amazing article with your friends and family, and don't forget to follow us on Instagram
Bangalore Today
Thank you.