Lalbagh Botanical Garden is one of the main attractions of Bangalore city and it is spread over an area of 240 acres, as of 2023, Lalbagh Botanical Garden Bangalore timings are 6 am to 7 pm and ticket price is ₹20 for adults & no Entry Fee for children below 12 years.
In this post, I will provide morning and evening Lalbagh Botanical Garden Bangalore timings, ticket prices for people, DSLR cameras or others, its maps, nearest metro station, location address, date and timings of the flower show, events, facts, bus number, and more.
Lalbagh Botanical Garden Bangalore Timings
The Lalbagh Botanical Garden Bangalore Timings  6 AM to 7 PM is fixed for the whole year, and it's open all day of the year and is not closed due to any government holiday, as local residents of Bangalore come here every morning to enjoy the fresh air and atmosphere, so it is not closed on Saturday-Sunday or any other day.
Lalbagh Botanical Garden Bangalore Timings
Morning Opening Timings
6 AM
Evening Closing Timings
7 PM
Also read, Wonderla Timings & Ticket Price 
Lalbagh Botanical Garden Bangalore Ticket price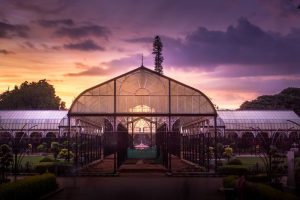 The Lalbagh Botanical Garden  Bangalore Entry fee for adults at ₹20. It's an affordable fee that grants access to the beautiful garden and its various attractions. However, children below 12 years of age can enjoy the garden without any entry fee, making it a family-friendly destination.
Visitors who wish to capture memories of their visit are allowed to bring their cameras inside the garden. However, there is an additional charge of Rs. 50 for this privilege. This fee enables photography enthusiasts to document the stunning flora and fauna found within the garden's premises.
One of the notable advantages of visiting Lalbagh Botanical Garden is that the ticket prices remain the same throughout the year, including holidays. This consistency ensures that everyone has equal opportunities to explore and appreciate the garden's natural beauty regardless of the date or occasion.
Overall, with a ticket price of ₹20 for adults, free entry for children below 12 years, and an optional camera charge of Rs. 50, Lalbagh Botanical Garden offers an affordable and inclusive experience for visitors of all ages.
Lalbagh Botanical Garden Bangalore Ticket Price
For Adults
₹20
Rent for Cameras
₹50
Nearest Metro Station
The nearest metro station to Lalbagh Botanical Garden in Bangalore is the Lalbagh Botanical Garden Metro Station. This station serves as a terminus on the "Green" Line of the Bangalore Metro.
It is strategically located in close proximity to Lalbagh Botanical Garden, making it the most convenient mode of transportation for visitors wishing to reach the garden.
Traveling to and from Lalbagh Botanical Garden Metro Station is convenient due to its interchange and connectivity with other metro lines. Passengers can easily switch lines at various metro stations to reach their desired destinations within Bangalore.
Lalbagh Botanical Garden Metro Station serves as a gateway to the iconic Lalbagh Botanical Garden, allowing visitors to access the garden easily and conveniently.
It provides a seamless transportation option for those who prefer using the metro system to explore the city and enjoy the beauty of the Lalbagh Botanical Garden.
Lalbagh Botanical Garden Bangalore Address or Location
Lalbagh Botanical Garden is situated in Mavalli, Bengaluru, Karnataka, with an address of Mavalli, Bengaluru, Karnataka 560004.
The garden spans an extensive area of 97 hectares and is located in the Bangalore Urban district. Visitors can explore various departments, including the Glass House, enjoy the facilities of public toilets, and admire the artistic beauty of the Topiary Garden.
For inquiries or assistance, individuals can contact Lalbagh Botanical Garden at 080 2657 0181.
Lalbagh Bus Number 
| | |
| --- | --- |
| KBS, Majestic – Lalbagh | 25, 215, 340, 343 |
| Kempegowda Bus Stand, Majestic – Lalbagh. | 43, 340, 343, 356 |
Lalbagh Botanical Garden Bangalore Parking Facility
Lalbagh, the famous botanical garden in Bangalore, offers three entry gates out of a total of four. All three gates provide parking facilities in and around the garden, with a mix of chargeable and free options available.
For those planning to visit Lalbagh by private vehicle, I would suggest heading to the "Lalbagh West gate" entrance. This gate provides ample free parking options on the opposite side roads. Visitors can conveniently park their vehicles and make their way into the garden to explore its beauty.
Alternatively, reaching the "Lalbagh West gate" can also be accomplished using the Metro lines. Bangalore's Metro system provides convenient access to Lalbagh, allowing visitors to avoid the hassle of parking altogether. They can simply take the Metro to the nearest station and then reach the "Lalbagh West gate" with ease.
The availability of parking facilities at Lalbagh ensures that visitors have convenient options to choose from, depending on their mode of transportation. Whether arriving by private vehicle or utilizing public transportation like the Metro, visitors can enjoy a seamless experience when accessing Lalbagh's magnificent gardens and attractions.
About Lalbagh Botanical Garden Bangalore
One of the attractive tourist spots of Bangalore city, Lalbagh Garden is a flower garden with an eye-catching elegance.
Located in the central part of Bangalore city, the park is spread over approximately 240 acres and has India's largest collection of tropical and sub-tropical plants, including centuries-old trees.
Shows like Snow White and the Seven Dwarfs, and a topiary park, an expansive lake, a beautifully shaped glasshouse around London's Crystal Palace add to its beauty by adorning the park,
About 1 crore people visit this garden, which is considered to be one of the greenest areas in the city of Bangalore.
Facts about Lalbagh Botanical Garden
Lalbagh Botanical Garden in Bengaluru was commissioned by Hyder Ali, the ruler of Mysore, in 1760 and completed by his son Tipu Sultan.
The garden is famous for its iconic glasshouse, which hosts two annual flower shows on January 26 and August 15.
Lalbagh Botanical Garden is considered one of the prominent gardens in Bengaluru and is often referred to as a pendant in the city's necklace of gardens.
The garden covers an expansive area of 240 acres and is maintained by the Public Works Department (PWD) under the supervision of the state's Department of Horticulture.
In 1856, Lalbagh was designated as a Government Botanical Garden and has gained international recognition for its contributions to the scientific study of plants, botanical artwork, and plant conservation.
Besides attracting tourists, Lalbagh also appeals to horticulture enthusiasts who can participate in various courses on subjects like horticulture, post-harvest technology, and mushroom cultivation. These courses are organized by the Department of Horticulture.
The garden offers a 10-month training program for rural youth interested in horticulture. Additionally, the Mysore Horticultural Society conducts courses on Ikebana and Bonsai.
Overall, Lalbagh Botanical Garden showcases a rich history, features a renowned glasshouse, serves as an educational hub for horticulture enthusiasts, and is dedicated to scientific research and plant conservation.
Glass House;
The Glass House, situated within the Lalbagh Botanical Gardens in Bangalore, India, offers a captivating interior view. This iconic structure was conceptualized by John Cameron, who served as the Superintendent of the Botanical Gardens since 1874. Construction of the Glass House took place in 1889, and it underwent restoration in 2004 to maintain its splendor.
The inspiration for the Glass House can be traced back to the Crystal Palace, although its layout has been modified over time. Its foundation stone was laid by Prince Albert Victor, the grandson of Queen Victoria, during his visit to Bangalore.
It has since become a significant tourist attraction, earning the nickname "The Jewel of the Garden City." The Glass House serves as a venue for flower shows and adds to the allure of Lalbagh Botanical Gardens.
Lalbagh Botanical Gardens itself holds a distinguished status among city parks. Its exceptional reputation has led to comparisons with the renowned Kew Gardens.
The association with Kew dates back to the appointment of the first superintendent, William New, who was recommended by the Director of Kew at the time, William Hooker. New arrived in 1858 and established nurseries and greenhouses that are still visible today. The cottage he built for himself has been transformed into the Lal Bagh Library.
Successive superintendents of Lalbagh, many of whom were trained or worked at Kew, continued the legacy. John Cameron, fondly referred to as the "Father of Horticulture" in the area, joined Lalbagh in 1874. Under his stewardship, the botanical gardens expanded from 40 to nearly 100 acres, showcasing his dedication and expertise in horticulture.
The Glass House in Lalbagh Botanical Gardens stands as a testament to the rich history and botanical heritage of the garden. It continues to enchant visitors with its stunning architecture and serves as a hub for floral displays and exhibitions, attracting visitors from far and wide.
Why It's Called Lalbagh Botanical Garden?
Lalbagh is a renowned botanical garden located in Bangalore city. It is one of the largest and most famous gardens in Bangalore, where plants are cultivated for public display and scientific research. Lalbagh features a stunning collection of 20-year-old trees, and it attracts approximately one million visitors annually. Once people visit this place, they are captivated by its beauty and find it difficult to leave. Lalbagh truly offers an amazing experience.
FAQ's
1]. How much is the entry fee for Lalbagh Botanical Garden?
Lalbagh Botanical Garden Bangalore the ticket price is ₹20 for adults & no Entry Fee for children below 12 years.
2]. What is the best time to visit Lalbagh Botanical Garden in Bangalore?
January and August are the best time to visit Lalbagh because during that period Lalbagh celebrates its famous flower show.
Final Words;
I hope You find this article about "Lalbagh Botanical Garden Bangalore timings & Ticket Price" useful therefore show your support by sharing this amazing article with your friends and family, and don't forget to follow us on Instagram
Bangalore Today
Thank you