The HP Pavilion 14 laptop model was launched in India 1 year ago, and today in 2023, I'm going to review this budget personal or study-suitable laptop from the HP brand.
The HP Pavilion 14 truly comes with a premium look, featuring a chassis plastic finish. It includes the latest 14-inch FHD display with IPS Anti-Glare, a backlit keyboard, B&O audio, a fingerprint reader, and Windows 11 Home. All these configurations look quite impressive to me.
The Pavilion series laptop is one of the successful laptop models from the HP brand, and today I'm taking in hand one of the finest budget laptops, the HP Pavilion 14, for a detailed review. In the end, I'm going to provide my verdict on this laptop model.
After using it for a month, I have noticed a few amazing things about it, but also some drawbacks. So before making a final decision to buy it, kindly read the complete details below.
Review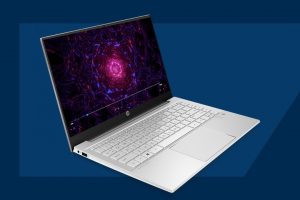 Credit: Amazon.in
The HP Pavilion 14 comes with an impressive 3D metal design and a 14-inch display. It also features 16 GB of fast RAM and a 512 GB PCIe NVMe M.2 SSD, ensuring quick response times for multitasking commands. Additionally, it includes a secure login option with a fingerprint sensor. However, the GPU is only capable of handling entry-level tasks. Overall, these combined features provide good performance for studying or office use.
Design and Build
The HP Pavilion series is mostly built with a plastic chassis finish, and accordingly, the Pavilion 14 is also made of plastic material. However, it still has an attractive silver color finish.
There are other color options available if you configure your own model on HP's site, including ceramic white, pink, and gold. However, for this review, I have chosen the silver-colored one.
So, there is no compromise by the brand with the device's build quality and design, especially considering the budget range. HP has offered a great design with a silver look, which is more interesting than all-black laptops.
Suggest reading, HP Pavilion Gaming
Display
Displays are one of the most important and necessary components in every laptop or PC. The HP brand understands the user's concerns and offers amazing display features in this laptop. Firstly, it comes with a 14-inch FHD display, making it easy to carry around without any hassle.
Additionally, it incorporates IPS Anti-glare technology to prevent damage to eyesight from harmful radiations emitted by the display.
Moreover, it has a display brightness of 250 Nits, which falls within the range of 200 to 600 units, making it good enough for comfortable operation day or night without any interruptions.
And additionally, the micro-edge display can be tilted from -5 degrees to 25 degrees, while the edge-to-edge display can be tilted from 0 to 25 degrees, providing a comfortable viewing experience.
Performance & Productivity
I have been using this laptop for a month, and my personal experience with it has been good. I received the Pavilion 14 model in the second week of May and primarily used it for writing blog articles and browsing the internet. It performed quite well with the Chrome browser.
Additionally, I enjoy watching Netflix videos and Amazon Prime for entertainment purposes, and the display supported FHD videos very decently during that time.
Talking about this laptop's performance, it comes with high-end 16 GB DDR4-3200 SDRAM, allowing for smooth multitasking alongside the latest Windows 11 operating system.
It also features 512 GB SSD storage for fast data access. The laptop powers on within 5 seconds, thanks to the support of Intel Turbo Boost Technology.
However, its Intel Integrated GPU is average, meaning it is suitable for running entry-level graphical work.
OS, RAM & Storage
Having a good operating system in a laptop is essential, and that's why the HP Pavilion 14 from the HP brand offers a quality OS.
It comes with a pre-installed genuine Microsoft Windows 11 Home operating system, providing an amazing smart user experience. The OS incorporates new technologies and includes hidden simple shortcuts for enhanced usability.
Furthermore, Windows 11 allows you to set up virtual desktops, similar to MacOS. This feature enables you to toggle between multiple desktops for personal, work, school, or gaming use.
Additionally, you have the ability to change the wallpaper on each virtual desktop, providing a personalized touch to your workspace. (Source: Cnet.com)
RAM and storage are configurations that can significantly impact a laptop's performance, greatly influencing device performance and productivity.
In this laptop, HP provides 16 GB of the latest DDR4-3200 SDRAM, allowing for the smooth operation of high-end tasks and efficient multitasking, It ensures that your commands are executed swiftly, delivering results within seconds.
Additionally, the laptop is equipped with 512 GB PCIe NVMe M.2 SSD storage, which enables users to complete tasks at a faster pace compared to traditional storage types.
You can expect quick responses and results when searching for and accessing data.
CPU & GPU
The HP Pavilion 14 laptop is equipped with the Intel Core i5-115G7 processor, known for its powerful performance capabilities. This processor is a power-efficient quad-core System-on-a-Chip (SoC) designed for laptops and Ultrabooks. It belongs to the Tiger Lake-U generation, which was announced in mid-2021 as part of a refresh.
The processor integrates four Willow Cove processor cores, which are capable of executing eight threads simultaneously, thanks to HyperThreading technology.
The base clock speed varies depending on the TDP (Thermal Design Power) settings, ranging from 1 GHz with a 12 Watt TDP up to 2.5 GHz with a 28 Watt TDP. Additionally, the processor can reach a boost clock speed of 4.5 GHz, providing extra performance when needed.
Apart from that, the HP Pavilion 14 is equipped with an Intel Iris Xe graphics card to handle graphical requirements. While it is considered an entry-level GPU, it is still capable of comfortably running mid-quality graphical tasks.
It provides a more detailed and immersive gaming experience, supporting a resolution of 1080p at 60FPS.
Keyboard and Trackpad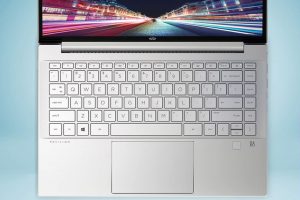 Image Source: Amazon.in
Having a built-in backlit keyboard is a great option for day and night use, so HP offers a backlit keyboard with silver color and amazingly optimized key spacing.
Additionally, it includes a fingerprint sensor for secure login, helping to prevent data theft, And it comes with a large-size trackpad to use the laptop in the most comfortable way.
Audio & Webcam Quality
The Hp Pavilion 14 comes with a high resolution of webcam that gives quality video calls or other things experience, And additionally, the sound system was also quite decent Audio by B&O, Dual speakers, and also Alexa Built-in.
Battery and Charging
Most people prefer choosing a laptop over a PC because the battery backup allows them to use the device from anywhere and at any time.
Recognizing this need, HP also prioritizes battery life by offering 6-7 hours of backup. It's important to note that laptop batteries typically last from 2 to 4 years, which is approximately equivalent to 1,000 charges.
Benchmark
The HP Pavilion 14 performs well in everyday home and office tasks, showing proficiency without any noticeable slowdown. It easily surpasses our baseline score of 4,000 points on PCMark 10, indicating its competency for everyday productivity tasks.
While it may not excel in media creation or editing speeds, if you're looking for a general-use laptop, the Pavilion 14 is a solid choice.
The benchmarks we utilize focus on CPU performance, assessing a PC's suitability for processor-intensive workloads. Cinebench R23 utilizes Maxon's Cinema 4D engine to render a complex scene, while Geekbench 5.4 Pro by Primate Labs simulates various popular app tasks.
Additionally, we employ HandBrake 1.4, an open-source video transcoder, to gauge the speed of converting a 12-minute 4K video clip to 1080p resolution (lower times are better).
For content creation and multimedia applications, we rely on Puget Systems' PugetBench for Photoshop, which utilizes Adobe's Creative Cloud version 22 of Photoshop to evaluate a PC's performance.
This automated extension executes a range of general and GPU-accelerated Photoshop tasks. These tests provide comprehensive insights into a system's productivity and suitability for different workloads.
Ref Source: pcmag.com
Good stuff and Drawbacks
Every laptop is manufactured by brands after thorough research, and the products are launched. However, users may still encounter some drawbacks or errors, alongside finding positive aspects in the laptop. So, let's now explore the pros and cons of the HP Pavilion 14.
Pros
Powerful Intel Core i5 Turbo boost technology.
Microsoft Office Home & Office 2019, Alexa Built-in
a wide range of configuration options at an affordable price.
Cons
 An Intel Iris Xe Graphics is an entry-level
Faq's
1]. Is HP Pavilion 14 good for students?
Yes, the HP Pavilion 14 comes with the latest Turbo Boost technology-based Core i5 processor. Additionally, this slim and lightweight device weighs only 1.41 kg, making it easy for students to carry to college or anywhere they need to go. Furthermore, HP offers Microsoft Office Home and Student 2019 pre-installed on the device.
2]. Is HP Pavilion 14 good for programming?
If you are seeking a thin and lightweight laptop suitable for programmers, this option is worth considering.
3]. Is the HP Pavilion 14 laptop good for gaming?
Yes, the HP Pavilion 14 is equipped with the latest Core i5 processor based on turbo boost technology. This slim and lightweight device weighs just 1.41 kg, making it easy for students to carry to college or any other location.
Additionally, HP provides pre-installed Microsoft Office Home and Student 2019, further enhancing its value.
Verdict: The HP Pavilion 14 impresses with its powerful specifications and thoughtful features. Equipped with an 11th Gen Intel Core i5 processor and 16GB of RAM, it delivers excellent performance for everyday tasks and multitasking.
The 14-inch FHD IPS display offers vibrant visuals and a comfortable viewing experience. With a 512GB PCIe NVMe SSD, storage is ample for most users' needs.
The inclusion of Windows 10 Home (with a free upgrade to Windows 11 when available) and Microsoft Office Home & Office 2019 provides convenience and productivity right out of the box. The integration of Alexa adds voice-controlled functionality to enhance user experience.
Furthermore, the commitment to sustainability and environmental consciousness sets HP apart. By prioritizing the planet and incorporating eco-friendly practices, HP demonstrates a dedication to creating technology that is both efficient and responsible.
Overall, the HP Pavilion 14 is a compelling choice for those seeking a capable and environmentally conscious laptop with a competitive price point. I hope this article provided you with comprehensive knowledge about the HP Pavilion 14 review.