In this post I have covered, HP Pavilion Gaming Review and more, Firstly Keeping up with the growing demand for budget gaming laptops, several brands have been making budget-friendly gaming laptops over the years.
The HP brand is also offering the same deliberately high-performance gaming laptop series, in this post, I am going to review the HP Pavilion Gaming Ryzen 5 processor, which is a very high-end gaming laptop.
Did you know that HP Pavilion Gaming Laptop is built with more power and will surely enhance the gaming experience with impressive performance?
Want to know how, stay tuned till the end to know the detailed review and some things you need to know about this HP Pavilion Gaming before buying it.
Review:
Image: Amazon.in 
Basically, the HP Pavilion Gaming Ryzen 5 laptop is a bodybuilder with a full-body polycarbonate, and laptops are given a touch of elegance with a quality trackpad and keyboard.
Considering the intention of buyers of this laptop specifically for gaming manufacturing HP Pavilion, it comes with a performing processor with a clock speed of 3.5 GHz and based on the processor benchmark ranking number 3, apart from that you get 4 GB GPU and Nvidia.
Design and Build Quality: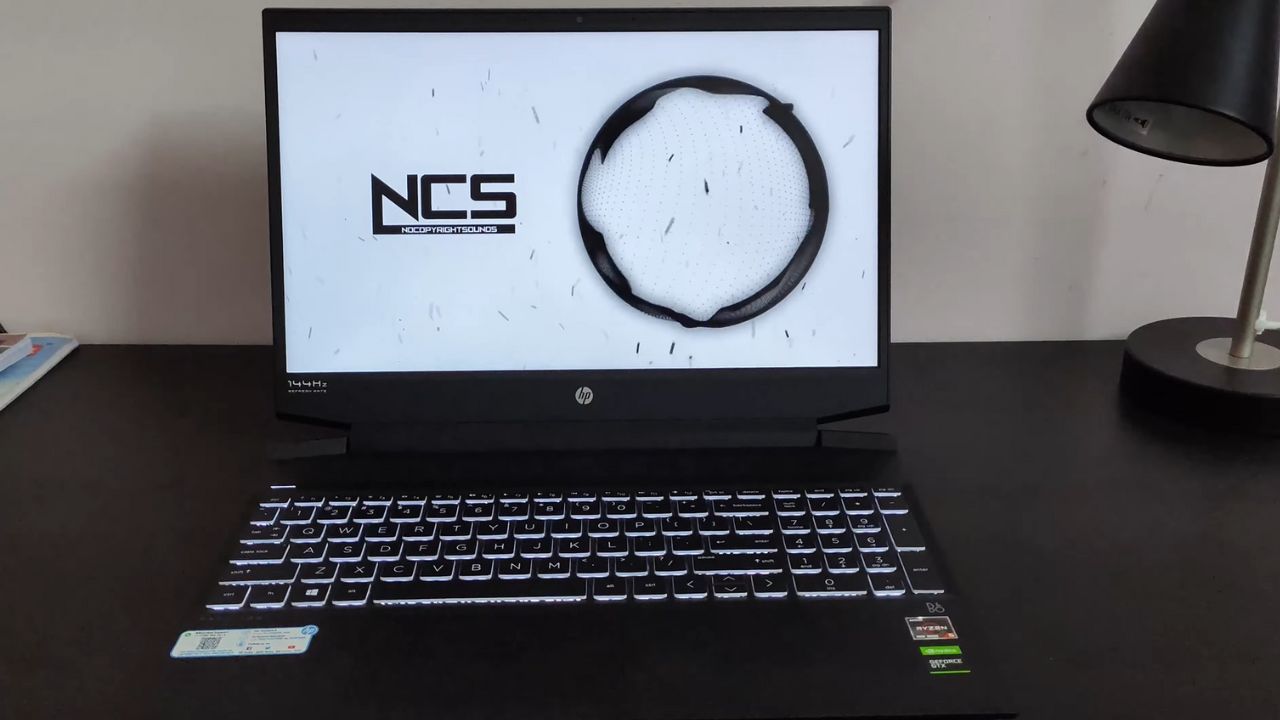 The stylishly elegant thin and light-designed laptop allows users to carry it anywhere with confidence for college or business use apart from gaming, And on the underside of the machine, you find the power intake vents in a very simple design and branding of the pavilion.
And the black angular design with unique LED lighting and matching accents adds a more attractive look to the device, Immerse yourself in the game with a sleek micro-edge bezel display that provides a maximum viewing experience.
But it is built from plastic material and it gets a dull look very early, so you can maintain the perspective of the laptop by stickering the body.
Suggested to reading,
Display:
HP offers a 15.6-inch full HD display of 1920 x 1080 resolution and a sleek micro-edge bezel display that provides maximum viewing experience with various angles, The Full HD anti-glare IPS display with 144-Hz refresh rate and 1080p resolution offers clear and vivid visuals on the screen.
The output in your command acts as a display tool that shows the search results of your queries, so the existence of a quality display is essential. With this laptop, you can experience a maximum of 1080p video or gaming quality.
Performance:
The performance of the laptop is essential in every laptop as it adds value to it by giving a powerful experience during work or study, let's explore the capabilities of this device in depth.
Firstly, in this laptop, HP offers Ryzen 5 processor powered by AMD with 6 cores and 12 threads based on a 3.0 GHz clock speed processor, which allows users to multitask with extreme performance at the same time.
After using it regularly for 2 weeks, I noticed that it holds up well enough with daily use moreover, this machine comes with multiple storage combinations and a powerful GTX 1650 4GB graphic card.
So it works well with the Bayonetta game and 2 other games that I tested on this device and the result is good with no lag issues, it gives also good support in heavy graphic games.
This Hp Pavilion gaming laptop is designed to work well with graphically demanding areas, so you can easily choose it for coding and animation video editing purposes with confidence.
Operating system, RAM & Storage: 
The HP Pavilion Gaming Ryzen 5 comes with Windows 10 Home with improved thermal management and you can upgrade it to Windows 11 as per your future needs.
Also, this machine comes with multiple storage combinations of 1 TB 7200 RPM HDD and 256 M.2 SSD, both of which help you store more data much faster than other HDD storage, And features an additional slot for future upgradeable storage capacity,
Additionally, 8 GB of ddr4 technology-based RAM is there to support you in running heavy tasks, you can upgrade the RAM up to 32 GB DDR4-3200 (2 slots). And you can upgrade the existing 256 GB PCIe NVMeM.
CPU: 
Considering the intent of this laptop buyer specifically for the HP Pavilion gaming manufacturing, Ryzen 5 offers an AMD-powered 6-core and 12-thread high-end CPU with this machine.
Along with that, you get a 3.5 GHz clock speed performing processor and processor benchmark based on number 3 ranking, so it can leave gaming and your maximum entertainment smoothly and easily without any lag.
I want to share a suggestion, you can buy so you can choose Ryzen 7 laptop in the model because it performs better than Ryzen 5, otherwise, both are good, and you can choose according to your requirements.
GPU:
The HP Pavilion Gaming comes with A 4 GB GPU and Nvidia in this laptop. It is a high-quality graphics card with 1650ti technology specially made for graphical purposes like gaming animation and any other content that runs through an amazingly powerful graphics card.
You can experience the amazing graphics performance of the award-winning NVIDIA Turin architecture. It's a blazing-fast supercharger for today's most popular games and even faster with modern titles.
Whether it's gaming or work, you can handle video editing, animation, coding, and more with this powerful Nvidia GPU.
Keyboard and Trackpad: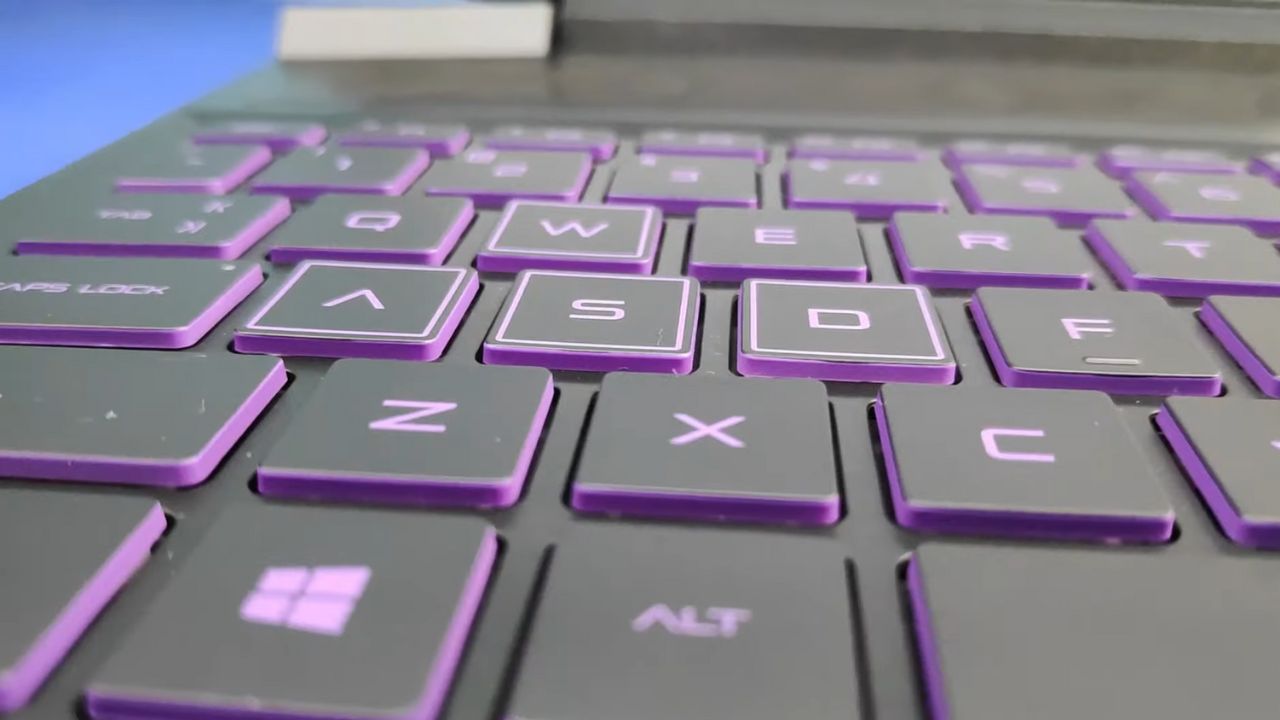 The HP Pavilion Gaming Ryzen 5 Laptop is a bodybuilder with full-body polycarbonate and the laptops are given a touch of elegance with a quality trackpad and keyboard.
A fully optimized keyboard with the latest backlit technology, you only need one click to activate that backlit feature and enjoy an uninterrupted experience day and night with work or entertainment, And the width of the trackpad is comfortable and very good to use.
Audio & Webcam Quality:
The Hp Pavilion gaming device comes with a brilliantly integrated audio driver and speaker from the B&O brand, a premium brand offering a high-quality audio experience, an international design icon, and an internationally recognized Bang & Olufsen brand known for its high-end Quality speakers, headphones, and audio accessories loved by athletes, musicians, and creators, So HP provides dual speakers in this device to handle seamless multimedia and more other things.
At the center of the laptop's display is an excellent camera that allows you to perform better video calling and conferencing.
Battery and Charging:
Hp Pavilion Gaming comes with an excellent battery backup of 8 hours on average and the charging speed is better than other common chargers, it comes with lithium polymer technology to last longer and perform better.
Compatible with:
Hp Pavilion Gaming Laptop is a multipurpose device that is capable of gaming or work or anything else as it comes with the latest Windows 11 OS along with a powerful CPU and GPU combination. Windows 11 helps the device to perform better than before.
If you are a student and looking for a laptop for study and partially suitable for gaming during leisure time then this is a good choice for you moreover, Hp Pavilion Gaming is a good choice for business professionals as you can install any software and access them easily without any interruption, and also you can do whatever you want be it animation coding or anything else.
USB & Ports: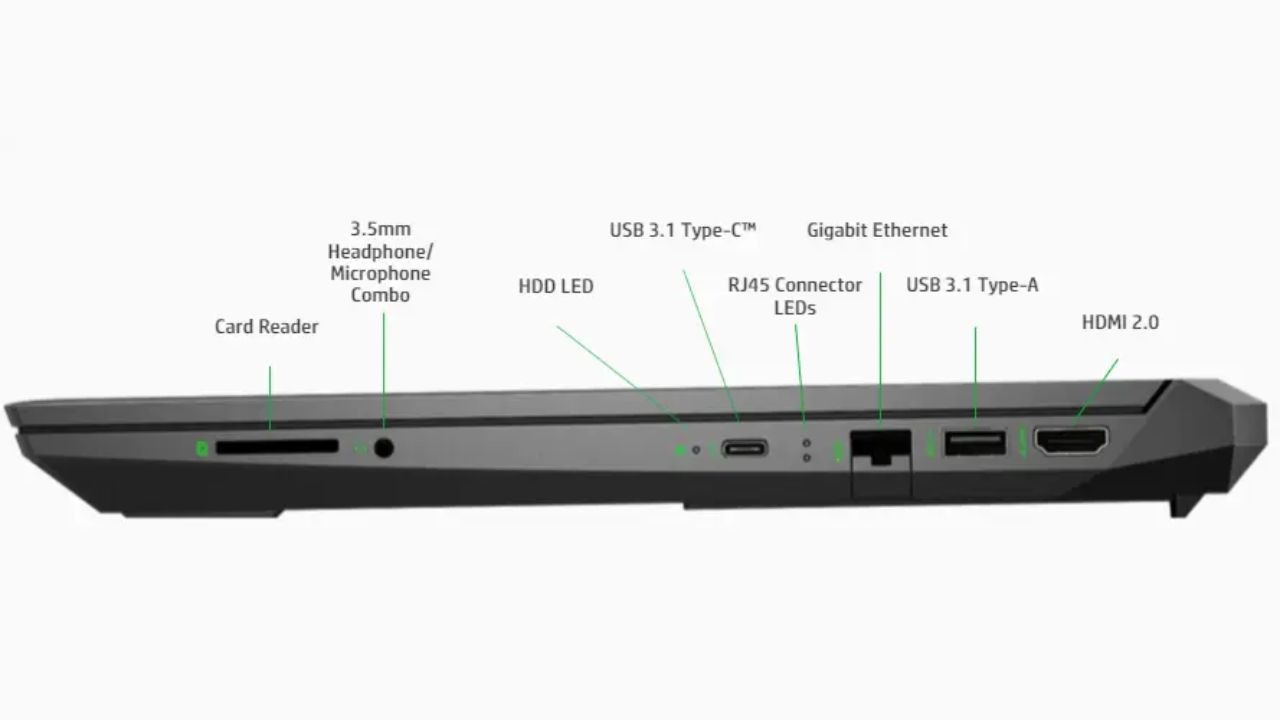 The Pavilion gaming laptop features power, two USB 3.0 ports, and a 3.5mm jack on the right side, along with HDMI-out, an additional USB-A 3.0 port, Ethernet, an SD card reader, and a USB-C port. left.
Benchmark: 
We have tested the HP Pavilion Gaming and here is the benchmark of this machine, First, the AMD Ryzen 5 5600H processor was a high-end laptop in the same class compared to the Acer Nitro 5, Dell G3 15, Lenovo IdeaPad Gaming 3i, and MSI Bravo 15. Recently PCmag conducted a test between 6 types of laptops. , and the result will surprise you.
According to that test, HP Pavilion got 1st place and MSI got 2nd place in the gaming category. And in the Photoshop performance test, our HP Pavilion Gaming performed poorly and it took the last place in the ranking list in the Photoshop category.
Speaking of other areas we tested, next is another synthetic graphics test, this time from Unigene Corporation. Like 3DMark, the eponymous Unigene engine is showcased for a second opinion on the machine's graphical capabilities. We present the results of two superpositions, run at 720p low and 1080p high presets.
Heating:
It has enough heating problems with long-term gaming without taking a break, otherwise, Hp Pavilion Gaming Laptop gives good performance for sessions without any heating problems with other work.
Pros and Drawbacks: 
After a week of using this HP Pavilion Gaming, I noticed some great things and also some flaws, let's go through them one by one.
Pros
It is a powerful Gaming laptop that comes with NVIDIA GeForce GTX 1650.
It has a Windows 11 Home 64 Plus Single Language.
Drawbacks
Average support with photoshop.
Faq's
1]. Are HP Pavilions good for gaming?
Yes, it is the best gaming laptop in the budget gaming laptop category. We ran some games including high-end graphics and the result was good.
2]. Is HP Pavilion gaming laptop good for VR?
It has a high-performance 8-core AMD Ryzen 5 processor (5600H), 512 GB SSD drive, and 8GB memory. NVIDIA GeForce GTX 1650 with 4GB discrete graphics helps equip you with the performance you need for your VR gaming experience.
Final Words: I hope you might like this review regarding the HP Pavilion Gaming Review, Then show your support by sharing this article with your friends and family…
And don't forget to follow us on Instagram Bangalore Today
Thank you