Bangalore, July 26: The High Court has given permission to acquire land from an apartment complex that is blocking the metro road extension of Jyothipur station which is part of Namma metro. This has cleared a big hurdle for Bangalore Metro Rail Corporation Limited.
Just last week, the court had given permission to acquire 119 square meters of land and directed BMRCL to deposit a compensation of Rs 2.58 crore in the civil court.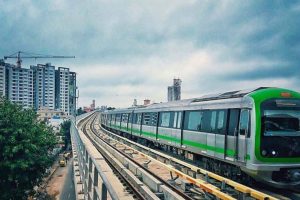 Actually, BMRCL has 261 square meters of land in this complex but after negotiations with the residents, it has been decided to finally acquire 119 square meters of land.
Recently, added  Namma Metro Pillar Collapse, Demands ₹10 Crore Compensation
And it is said that this will not cause any further inconvenience to the residents of the apartment, and they will be given the same amount of surrounding land," said BMRCL General Manager (Land Acquisition) MS Channappa Gowdar.
The land acquisition process was stalled for two years
Due to this one apartment complex, the Jyothipur Metro station road extension work has been stalled for the past 2 years, the acquisition of the 105 flats in the residential complex by the apartment owners' association and the original land owner to take care of the royal heritage has been blocked.
They had stopped this land acquisition operation by demanding more compensation amount and now the people related to the apartment have reached the court in this matter.
"We had requested the court to expedite the line as it was scheduled to start by the end of August. The issue of who will get the compensation can be decided later but the court has decided that the acquisition can be completed first," he said about the case.
Share this with your friends, family & others, and don't forget to follow us on 
Twitter
 & Instagram 
Bangalore Today
Thank you.