Bangalore, July 26: Regarding the Namma metro pillar collapse case that happened in Bangalore, the housewife and her son died in the pillar collapse, now the deceased's husband has approached the High Court, and the High Court has now issued a notice to 8 defendants.
Six months have passed since the incident where a mother and son collided with a metro reinforcement cage while riding a bike near Nagawara on January 10, 2023, and even after six months have passed, the family has not received any compensation from BMRCL.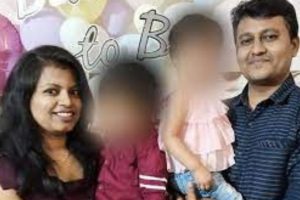 Because, after the accident, the state government announced a compensation of Rs 10 lakh from the Chief Minister's Relief Fund and BMRCL announced a compensation of Rs 20 lakh,
But Lohit Kumar Sulakhe, who lost his wife, Tejaswini, and son, has refused to accept the compensation offered by BMRCL and has now moved the High Court seeking a compensation of Rs 10 crore.
BMRCL chief Parvez further said that "he has sent several letters to Sulakhe regarding compensation but he has not responded,
Deceased Tejaswini's husband Rohit Kumar has approached the High Court asking for Rs 10 crore as compensation and a single-member bench of the High Court headed by Justice Krishna S Dixit,
Which heard the case, has issued a notice against Bangalore Metro Rail Corporation (BMRCL), the state government, and a total of 08 people including the contractor company.
Also, know How to apply for Shakti Smart Card 
This has caused the residents of Bengaluru to feel anxious due to the collapse of our metro na pillar and its consequences because there is doubt about our metro work that is going on at full speed and an atmosphere is created where people move around in such areas where the work is going on and the suspicion of poor quality of work has now been created.
Share this with your friends, family & others, and don't forget to follow us on
Twitter
 & Instagram 
Bangalore Today
Thank you.