Bangalore: Namma Metro (BMRCL) started a 2.1 km trial run on the critical Baiyappanahalli-KR Pura section on July 26, connecting Bengaluru Whitefield from Challaghat in West Bengaluru to Whitefield in East Bengaluru to facilitate residents and commuters, especially IT employees.
The trial run of the KR Pura Baiyappanahalli Metro line by Bangalore Metro started at 6.04 pm from KR Pura to Baiyappanahalli at a speed of 15 km per hour, BMRCL Managing Director Anjum Parvez told the media that this first trial was successful and the train will return to the KR Pura section on Wednesday.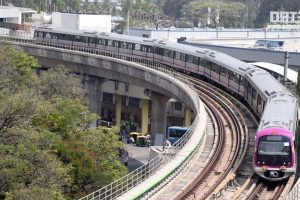 BMRCL has said that in the next two to three days the traffic will be started on these sections as it intends to open two sections simultaneously for such Kengeri and Challaghat sections which are part of the Namma Metro route.
Also, read, Gold Rate Today in Bangalore 27th July
BMRCL Managing Director Anjum Parvez told Money Control "The final stage to start metro service in both these sections is the inspection by the Metro Railway Safety Commissioner, so we have requested a date from the Metro Railway Commissioner after August 20 and are thinking of starting the commercial service within a week after the completion of the inspection".
A load test of the Open Web Girder (OWG) over the track of the Indian Railways at Benniganahalli will also be conducted as part of the trial run of these two Baiyappanahalli-KR Pura sections. To ensure structural stability, and to simulate full passenger capacity, a six-coach train filled with sandbags will halt overnight at OWG.
Officials said the Purple line is expected to be fully operational by the end of August after the completion of trial runs and inspections of the two sections.
Share this with your friends, family & others, and don't forget to follow us on 
Twitter
 & Instagram 
Bangalore Today
Thank you