Bangalore Kambala Ticket Booking will start soon on their official website,  Kambal is a folk game of the state of Karnataka and usually, this game is played in the coastal part of Karnataka, but now for the first time it will be held at the Palace Ground in Bangalore from 25th to 26th November.
Organizers said that this carpet game will be held in the spacious grounds of Bangalore Palace belonging to the royal family of Mysore and, there is a possibility of 3 to 5 lakh spectators.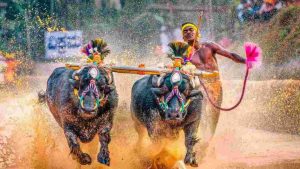 What is Kambala?
Kambala is a buffalo race that takes place in the coastal districts of Karnataka during the winter, coinciding with the busy paddy harvest season for farmers. This unique race involves pairs of buffaloes running on two muddy and watery tracks, guided by a jockey, commonly known as a 'Kambala runner.' The victorious team progresses to higher rounds, ultimately determining the champion.
In Kambala, success extends beyond merely winning the race; participants also strive to create splashes of water, and in some instances, winners are determined by the amount of water splashed, referred to as 'kolu.' Emerging victorious in a Kambala race is a noteworthy accomplishment, and the racing buffaloes receive special care and attention throughout the year.
Also, Read: Wonderla Bangalore Ticket Price
Bangalore Kambala Ticket Booking:
The residents of the city are eagerly anticipating the inaugural Kambala festival in Bangalore. They are eagerly awaiting the commencement of ticket bookings for this Bengaluru Kambala event. The organizers are committed to offering a convenient ticket booking facility for the event on the official government website at the earliest opportunity.
Venue:
Kambala will be held in Bangalore for the first time, a 151 meter track has been constructed on the 70 acres of the city's palace grounds, the carpet event will be held at the Bangalore palace grounds built by the royal family of Mysore, and a track consisting of a carpet run has been created. It has a field wide enough to accommodate 800 football fields.
Date :
The event is scheduled to take place on November 25–26, featuring the longest racetrack spanning 155 meters. Ashok Kumar Rai, the president of the Bengaluru Kambala committee and an MLA from Puttur, informed reporters that 116 buffalo owners have already registered to participate in the Kambala.
He stated, "We anticipate a turnout of more than eight lakh people to witness the Kambala event. Our goal is to have a minimum of 125 pairs of buffaloes participating. Each owner will receive a payment of ₹50,000 for transporting their buffaloes to the city from their respective areas. Additionally, we plan to establish food stalls offering Dakshina Kannada delicacies.
Share this with your friends, family & others, and don't forget to follow us on 
Twitter
 & Instagram 
Bangalore Today
Thank you