Bengaluru, July 27: Bengaluru Metro Rail Corporation Regular (BMRCL) to Bengaluru Metro line work is progressing in full swing, within the next month the work will be completed from Nagasandra to Madavara on the green line, and the metro train service will start operations in the month of October.
Apart from this, BMRCL has already reached the stage of complete completion of the work on the purple line and is conducting the trial run.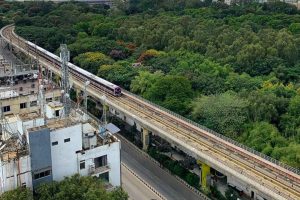 As part of the Green Line extension, the obstruction of the embankment construction on the Nice Peripheral Ring Road near the Bangalore International Exhibition Center on the Nagasandra-Madavara route has already been cleared.
Also, read, Namma Metro starts trial runs on the Byappanahalli-KR Puram section
BMRCL manager Anjum Parvesh said that concerns over how high to install steel girders on the peripheral ring road, which Nandi Infrastructure Corridor Enterprise (NICE) had asked about, have now been cleared, Times of India reported.
However, earlier concerns were raised that the height of the metro's elevated line, which is currently close to the road, is insufficient. Also as per National Highway Authority of India norms, the height should be a maximum of 5.5 meters, but our viaducts are 5.8 meters high. Finally, everyone agreed," he informed.
Installation of Steel Girder
Recently, BMRCL installed steel girders at necessary places on Nice Road with the help of cranes. Its length is 53 meters. "We have also completed the installation of a girder on the loop line of the metro corridor," the officials said.
Under Phase 2, BMR CL has extended the 3 km greenway from Nagasandra to Madavara (BIEC). Out of the three stations, the work of Majunathnagar and Chikkabidarakallu stations has been completed.
Also, suggest reading, Gold Rate Today in Bangalore on the 27th of July
Construction work is still going on in Madavara. Due to financial problem and delay in land acquisition, the construction center faced many obstacles and the construction work of this 3 kilometer has been delayed for 5 years.
Thank you.