Bengaluru, July 28: Gold Rate Today in Bangalore fell by ₹ 35 per gram on 22-carat gold and ₹ 38 on 24-carat gold. Know complete information about today's gold price with the help of other statistics given below.
Gold and silver prices in international markets eased from weekly highs after the expected US GDP data and unemployment data claims.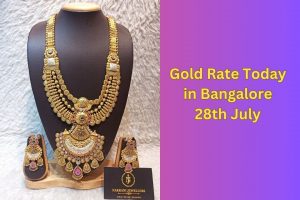 Gold prices have seen an uptick for a week, but today saw a drop in gold prices, with 22-carat gold down by ₹ 35 per gram and 24-carat gold by ₹ 38 per gram, lower than yesterday's prices.
Recently, added Bengaluru: Hotel owners have decided to increase the price of food
According to Livemint's report "Why gold prices fell on Thursday evening", Amit Sajeja, Vice President, Research, Motilal Oswal, said, "Gold and silver prices were hot today due to expected US GDP and other economic data. This triggered profit booking at weekly highs as there was no further trigger for any upside.
Gold prices ranged from $1,935 to $1,985 per ounce and the yellow metal may drop to $1,935 per ounce levels after the release of positive US economic data."
Highlights.
22-carat gold price is ₹ 55,450 per 10 grams.
24-carat gold price is ₹ 60,490 per 10 grams.
Usually, we see a lot of demand & fluctuations in gold prices during the wedding season, and Akshaya Tritiya, today's gold price is around Rs. 60,490 for 10 grams of 24-carat gold. And Rs 55,450 for 10 grams of 22-carat gold.
The advice we want to give to those who want to buy gold is that the price of gold changes every day at 8:00 AM, so before you buy gold it is better to check the current gold price at that particular time.
Share this with your friends, family & others, and don't forget to follow us on 
Twitter
 & Instagram 
Bangalore Today
Thank you