Bengaluru, August 02: One of the most important alternative ways for Bengaluru people to avoid the traffic jam is the Namma metro system in Bengaluru, more than 4 lakh people are availing of the Namma metro service in Bengaluru every day, and already Namma metro has provided metro connectivity approximately 70 km route and will continue to expand its coverage in the near future.
BMRCL has implemented a number of schemes to ensure the safety of Bengaluru Metro commuters, now bringing a new platform screen door system.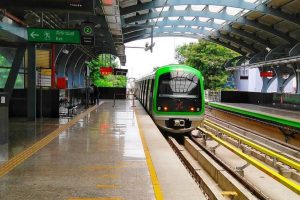 Platform screen door systems are already abroad, Chennai and Delhi Metro already have this system. This will help in preventing passengers from accidentally walking towards the electrified track while waiting for the train, and will also help prevent such incidents that may occur on the track at a metro station.
What is Platform Screen Door System?
The doors are installed so as not to go near the platform of Namma metro station. These doors open automatically when the train arrives and help people board and alight the train. The platform screen door system has already been installed in many metro stations in Delhi and Chennai.
First time Implementing in Bengaluru
This platform screen door system is being implemented for the first time in Bengaluru city at Electronic City Konappa Agrahara Metro Station which is a major part of Bengaluru Metro.
Deployment of Security Guards at Namma Metro Stations
Now security guards have been deployed to ensure that we do not cross the yellow line of the Namma metro station platform. They prevent passengers from going near the tracks and trying to pick up other objects such as mobiles falling on the tracks.
The platform screen door will be built on this yellow line. Outside this people have to wait in queue for the metro train. If the doors are closed, you will have to wait until the next train arrives.
Infosys has also agreed to implement this on a pilot basis at Agrahara station in Electronic City Konappa and will also provide additional funding for this system.
Also, read, Bengaluru: Increase in dengue cases, total 1,649 cases reported in a single month
Infosys has spent around Rs 135 crore for the construction of this station. The grant will be given to BMRCL & It will invite tender for the construction of a platform screen door. A walkway will also be constructed to connect the Infosys campus directly to the metro station.
A shop is also being opened here for commercial activities. The platform screen door system has been successful in metro stations of Delhi and Chennai. This is helpful for passenger safety. Officials of BMRCL have said that this arrangement will be implemented in Bengaluru as well.
In February this year, the two tried to cross the track to reach the opposite platform at the Mahakavi Kuvempu Road station on the Green Line. But the time consciousness of the station staff averted a major disaster. Platform screen doors will be helpful in preventing such mishaps.
Also suggesting to read, Bengaluru: Increase in dengue cases, a total of 1,649 cases were reported in a single month
In the next phase, BMRCL is going to implement a platform screen door system at 12 Suranga metro station on the Pink line. By 2025, metro rail traffic is expected on this route. It is thought to build this system on the metro line running on the outer ring road as well.
Share this with your friends, family & others, and don't forget to follow us on 
Twitter
 & Instagram 
Bangalore Today
Thank you